We spoke to BOOST&Co about growth debt, an alternative to raising equity for businesses, and how debt can be a useful tool to grow a company.
What are growth loans?
Growth loans are an alternative source of funding for fast-growing SMEs. They combine features of traditional debt and equity finance, and are designed to help businesses to grow without incurring significant dilution of the equity ownership nor giving away control of the business. It works particularly well for businesses growing fast and aiming to achieve key milestones that will trigger a higher valuation in a future equity round or help them to reach the IPO stage.
Growth loans typically amount £1-5M and are available to fast growing companies with an established business model. They are available earlier in the life of companies than bank loans, and in greater amounts. Because this type of capital is more expensive than traditional debt, it can be interesting to consider combining it together with cheaper sources of debt like invoice discounting, asset-based finance or leasing.
In the following infographic you can check the main differences between Growth Debt and Equity:
What is the difference between a growth loan and growth equity?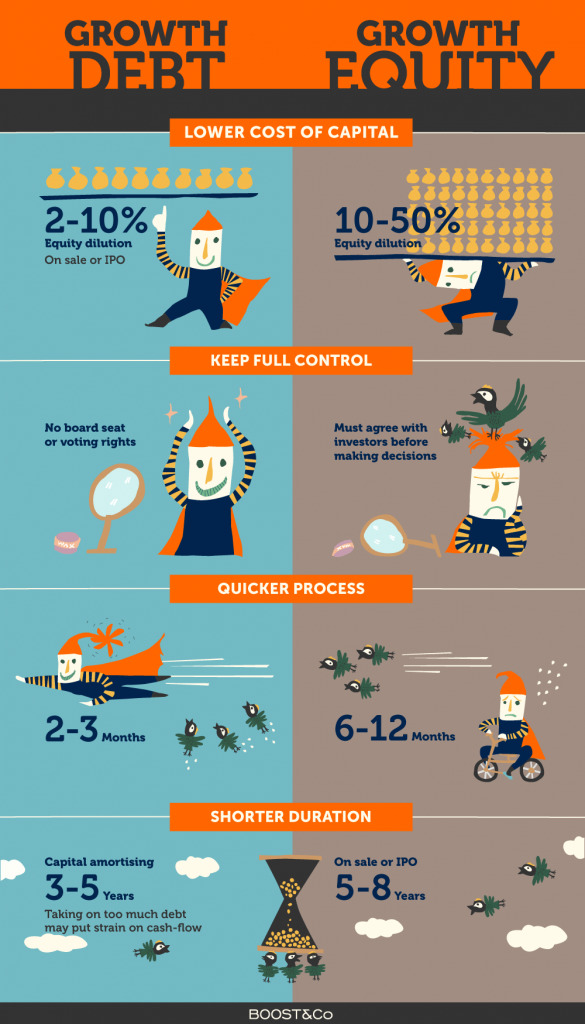 To learn more about Growth Debt, how to use it to grow your business, and the typical terms growth lenders offer, download BOOST&Co free guide: Growth Lending Guide