The Federal Maritime Commission (FMC) has created a new program that aims to review the detention and demurrage practices of ocean carriers. This is an effort to ensure all relevant and necessary information is available and that billing practices follow the FMC's rules and guidelines. The program will also review appeals procedures, penalties assessed by the lines, and any other restrictive practices.
There has been a heated debate within the supply chain industry about detention and demurrage fees. The surge in congestion as a result of the pandemic at, particularly, ports over the last year has aggravated the situation, with cargo owners and truckers saying they're being charged even when they can't gain access to their containers. Fees, and their increase, are seen as a necessary stepping stone in ensuring cargo and goods are moved at an adequate pace. Though this may be applicable in "normal" circumstances, industry participants have been quick to point out that there is simply too much congestion in order for an increase in fees to be effective.
As a result, the Federal Maritime Commission created the "Vessel-Operating Common Carrier Audit Program". This program will assess carrier compliance of the top nine carriers with the agency's rule 46 USC 41102(c) on detention and demurrage and provide additional relevant information to the regular monitoring of the marketplace for ocean cargo services.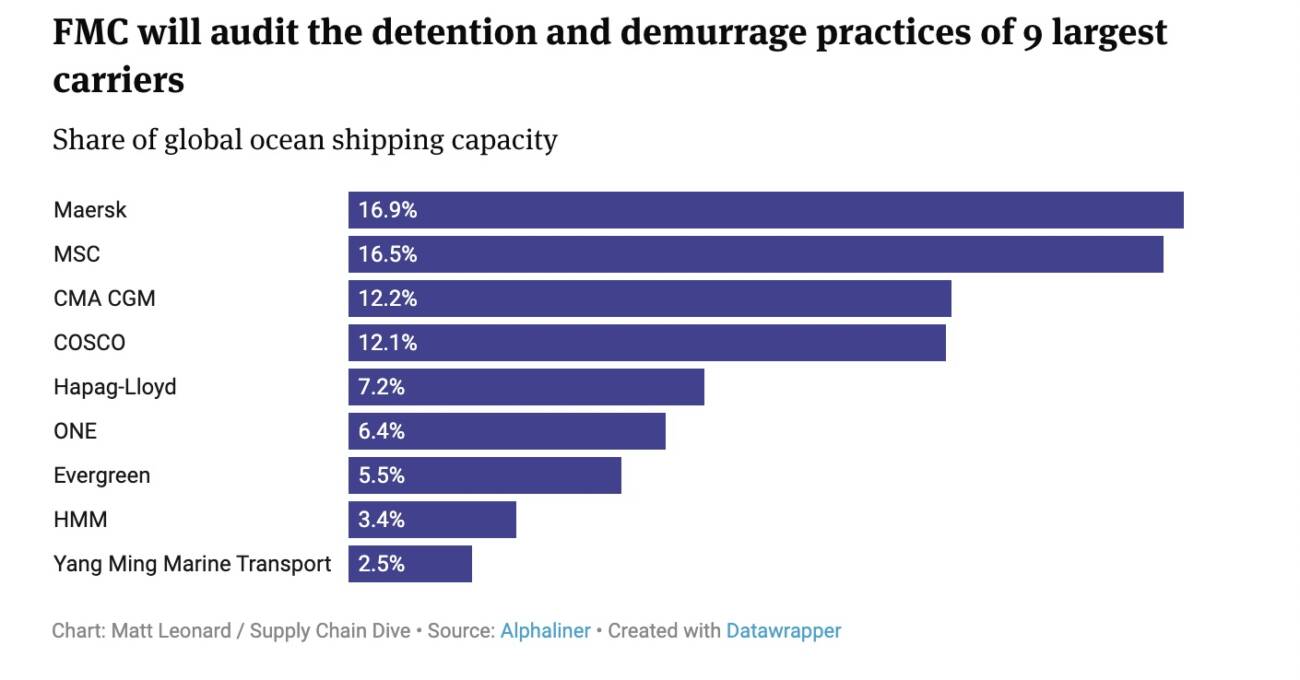 This program is a direct result of FMC's investigation into the pandemic's effects on the ocean shipping industry and is part of Fact Finding 29 – aimed to identify operational solutions to cargo delivery system challenges concerning Coronavirus-19. While Fact Finding 29 will come to an end, the Vessel-Operating Common Carrier Audit Program will be permanent.
Additionally, the FMC and the Justice Department's Antitrust Division signed a Memorandum of Understanding last week which will strengthen the FMC's ability to detect, address, and pursue violations of the law or anticompetitive behaviour within the industry,
"The Federal Maritime Commission is committed to making certain the law is followed and that shippers do not suffer from unfair disadvantages. The work of the audit team will enable the Commission to monitor trends in demurrage and detention practices and revenue, as well as to establish an ongoing dialogue between staff and carriers on challenges facing the supply chain. Of course, if the audit team uncovers prohibited activities, the Commission will take appropriate action. Furthermore, the information gathered by the audit process might lead to changes in FMC regulations and industry guidance if warranted" said FMC Chairman Maffei.
First published here.