Deutsche Bank and Serrala, have launched the first API interface for SEPA instant payments in the market.
An important step towards Real-Time-Treasury
The joint initiative is an important first step facilitating real-time treasury and allowing payments to be processed 24/7/365 within less than ten seconds. The new interface, which is part of the Serrala FS2 Payments for SAP solution, sets the basis for an end-to-end automation of payment processes through integration in the customer's SAP ERP system. The joint solution lays the foundation to enhance, accelerate and digitalize not only treasury processes but also end-to-end business workflows.
The SEPA Instant Credit Transfer scheme, developed by the European Payments Council, sets the standard that digital payments must be executed in ten seconds or less. This payment method has been available since 2017, but for now, it requires mostly proprietary bank solutions. Deutsche Bank and Serrala have now developed the first API that allows corporates to initiate payments instantly through their SAP ERP system.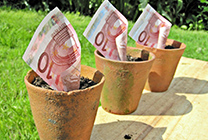 "Combining SEPA Instant Payments with API technology creates new opportunities for our customers. Corporates benefit from an end-to-end integration of their business processes via treasury components to the bank and vice versa and receive an immediate confirmation of their payments", explains Thomas Stosberg, Director, Corporate Cash Management Sales at Deutsche Bank.
"Instant Payments are revolutionizing payment structures. Together with Deutsche Bank we are bringing the benefits of the SEPA Instant Credit Transfer scheme to corporate customers. Our API transforms payment processing from scheduled batch payments to real- time processing, accelerating payments significantly," says Stephan Benkendorf, Chief Domestic Officer at Serrala.
Deutsche Bank and Serrala are working closely with their clients to understand their payment demands and constantly improve the solution. In a first step, the SEPA Instant Payment API will be available to capture, process and manage manual payments in SAP systems. Deutsche Bank and Serrala have plans to expand the solution to include other payment systems in a second phase.