Estimated reading time: 7 minutes
The potential role of technologies in improving sustainability reporting quality
Emerging technology and innovation create distinct hierarchical structures such as real-time data on volume, velocity, variety and value of trade that can improve the quality of sustainability reporting principles.
Technological innovations, including the Internet of things (IoT), artificial intelligence (AI), and blockchain are presented as phenomena that could be used to improve the quality of sustainability reporting and thus assist in achieving the UN's Sustainable Development Goals (SDG) Action Plan.
Attributes of sustainability reporting quality for eliminating greenwashing?

Managers of environmental, social, and governance (ESG)-labelled investment funds are under growing pressure to demonstrate that they inform consumers of the truth about the 'green credentials' of their products and services. 

However, there is a growing concern that some corporations creatively manage their public, financial, and regulatory reputations. 

This enables them to hide environmental and social deviance, deflect blame, obscure the nature of a problem or allegation, reassign responsibility, and finally, seek to appear to be in a leadership position when it comes to corporate social responsibility, particularly to the environment.

These behaviours, referred to as 'greenwashing', have been raising increasing concern in recent years.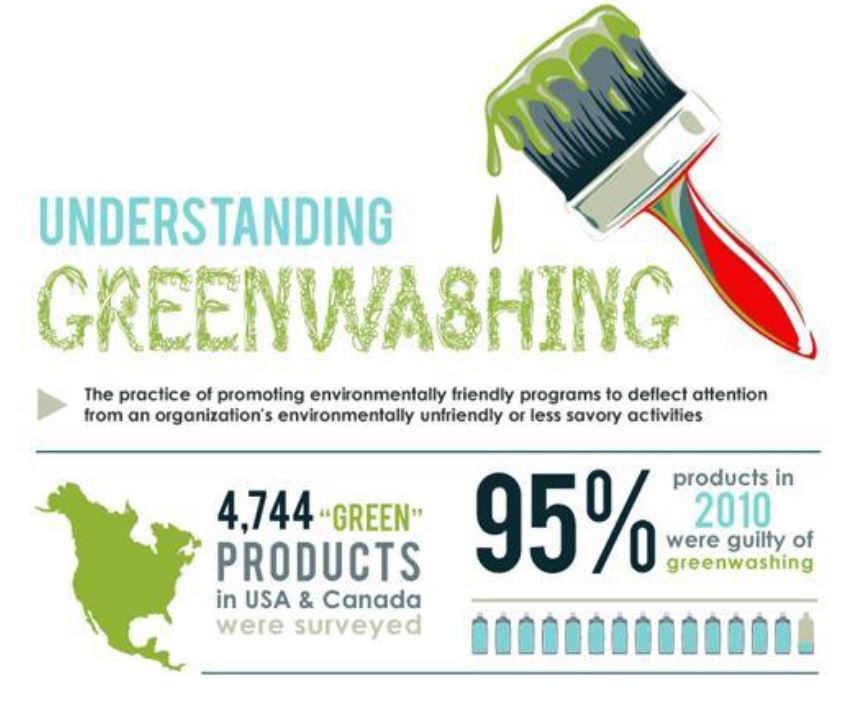 A truthful investigation or report generally involves some form of comparative assessment based on measuring markers.
To ensure fair and accurate comparisons, performance should ideally be measured using internationally-recognised metrics, such as the Global Reporting Initiative (GRI), Integrated Reporting, or Task Force on Climate-related Financial Disclosures (TFCFD).
These standards have been designed to unify comparisons and uncover greenwashing.
In addition, sustainability reports produced by companies must be easily understood by non-experts and comparable across organisations.
The GRI, the most comprehensive and applied framework, provides a good basis for improving sustainability reporting quality and preventing practices like greenwashing.
The components and definitions of the terminology to enhance sustainability reporting quality are presented in the table below.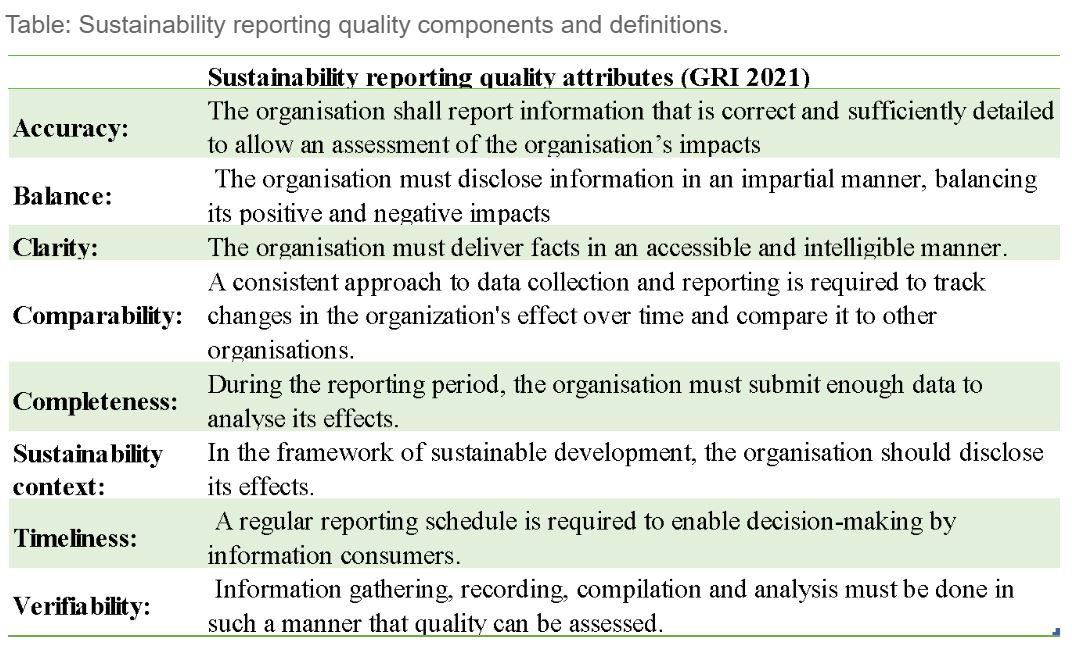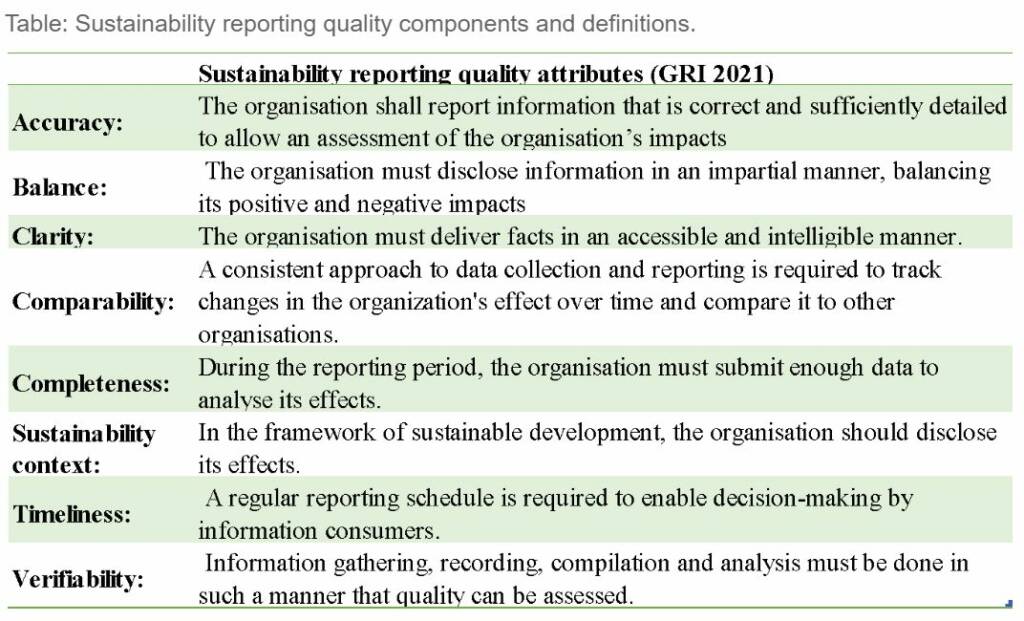 How emerging technologies can eliminate greenwashing
Internet of things (IoT), cloud computing, and big data analytics
The main challenge in enhancing sustainability reporting quality is finding reliable and valid measurement methodologies for environmental, social and economic variables, which to date, has been difficult.
IoT can construct a value chain, allowing for real-time data sharing on variables that are being monitored and controlled.
In order to fill data collection and processing gaps in industrial processes, mega-companies are currently integrating IoT to strategically collect, harvest, and send data to big data servers.
Storing multiple backups of real-time data ensures the accuracy and timeliness of data.
The data generated from IoT devices and technologies is mainly known as 'big data', and to make use of this massive unstructured collection of information requires big data analytics that helps to sift, sort, mine, and ultimately look for patterns in the data.
Big data traits are known as the 5 V's: volume, velocity, variety, veracity and value:
Volume refers to the size of data, a significant volume of data that requires a lot of storage or a lot of records
Variety refers to data created from a wider variety of sources and formats comprising multidimensional data fields
Velocity refers to the degree of data generation and analysis
Value refers to the economic benefits of big data
Veracity is synonymous with quality, assuring the data is clean and accurate.
Several studies indicate how big data attributes like accuracy, timeliness, consistency, and completeness can lead to the generation of high-quality data in supply chain management using the appropriate analytics tools.
Moreover, adopting innovations like cloud technology can aid the modern industrial market meet its requirements for real-time visibility in terms of demand and supply so as to establish more agile capabilities.
The integration of IoT and cloud computing is shown in the figure below.
IoT captures real-life information and allows for more reliable, valid measurements while also increasing the accuracy and sustainability context of the information.
Also, having access to real-time data and cloud storage enables various stakeholders to enhance the verifiability and timeliness of any data being generated.
In addition, since complete data sets are being captured, enabling a more thorough review of both positive and negative information, companies can improve the overall balance and completeness of any data being used for sustainability reporting purposes.
For example, having a smart energy system allows organisations to capture and monitor real-time, accurate, and complete energy consumption figures in relation to a particular entity, ensuring their information can be verified by external sources.
Artificial Intelligence (AI) and Machine Learning (ML)
AI is increasingly being used to make data-driven business decisions in economic, environmental, and social situations.
It captures extensive data from numerous sources, makes forecasts and can output visual information designed to empower primary decision-makers to make more informed decisions.
AI also holds great promise for better resource management and sustainability reporting.
Additionally, machine learning (ML) algorithms can capture real-time data, monitor categories, and predict information.
Several data sources can help to make decision-making more transparent, and when considering the environmental and social implications of any action, they can help improve management decision making.
By these means, AI and ML can provide accurate and verifiable data in real time, which is possible since there is a data trail that third parties and primary stakeholders can access.
These types of assessments can improve yearly comparability with competitors, and the tables and figures can be easily generated by AI and ML, facilitating greater comprehension and clarity of the data.
Additionally, companies can make more accurate predictions as data input increases, a process that can be aided by the execution of an ML algorithm.
The updated real-time data enables rich, timely information for sustainability reporting.
Distributed ledger technology
Distributed ledger technology (DLT), which is commonly referred to as blockchain and underpins Bitcoin and other cryptocurrencies, is a secure and immutable record of transactions between parties in a network.
Each verified transaction or block is uploaded to the database and distributed to all existing nodes using a mutually agreed-upon authentication mechanism.
The distribution of blocks reduces data integrity concerns because each node keeps an independent original record rather than one stored in a centralised location or collected by a particular organisation.
Furthermore, the technology will deny a transaction if a user attempts to modify a historic block or compromise a node.
DLT may simplify data transfer by removing layers that overlap and subsequently, information becomes more reliable and transparent.
By allowing the establishment of decentralised systems, greater information may enhance collaboration and coordination.
This will provide accuracy, verifiability, comparability, clarity, and timeliness of the information for reporting on sustainability.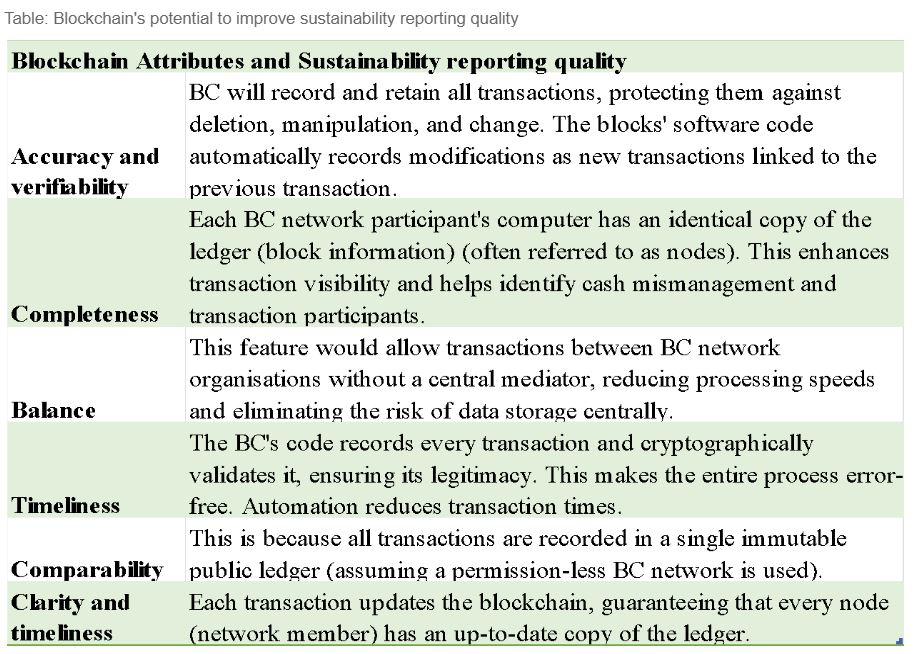 The future of sustainability reporting quality
While a number of academics have attempted to address the problem of "greenwashing," few in-depth or detailed studies have been undertaken on the use of technology in improving sustainability reporting.
Many stakeholders in the contemporary marketplace must evaluate a company's sustainability performance and this evaluation should be based on reliable and transparent data.
Technology, by its very nature, has the capacity to increase sustainability reporting quality and thus, help companies meet their sustainable development objectives.
Accuracy, balance, clarity, comparability, completeness, sustainability context, timeliness, and verifiability are all factors that can enhance sustainability reporting quality.
In addition, there is a requirement to examine the so-called innovator's dilemma and investigate both the advantages and disadvantages of employing technology in the workplace more generally in order to improve sustainability.
The few studies that have been carried out in this area have shown some promising potential for technology adaptation to improve the quality of sustainability disclosure and thereby help to eliminate greenwashing.
Transparent and authentic ESG/sustainability reporting must become the reality in the near future.