Estimated reading time: 3 minutes
On Tuesday, Maersk and IBM announced that TradeLens, their collaborative blockchain-based global trade platform, will be withdrawn from the market.
The platform team will begin scaling back its offerings starting immediately, aiming to be fully decommissioned by the end of March 2023.
This gradual scaling back is intended to help ensure that customers do not experience major disruptions to their operations.
According to a press release from Maersk on Tuesday, the platform, founded on a bold vision of achieving global industry collaboration, has yet to reach the commercial viability necessary to continue work and function as an independent business.
Rotem Hershko, head of business platforms at A.P. Moller – Maersk, said: "We will leverage the work of TradeLens as a stepping stone to further push our digitisation agenda and look forward to harnessing the energy and ability of our technology talent in new ways."
TradeLens was one of the largest blockchain-based global trade platforms, with 15 major ocean carriers (covering more than 60% of global containerised trade), 10 multinational trade finance banks, and more than 270 port terminals live on the platform. TradeLens used Hyperledger Fabric, a permissioned blockchain ensuring immutability and traceability.
A year of disillusionment
In May this year, blockchain-based trade finance platform we.trade also ceased operations, citing financial difficulties and a lack of revenue.
While both of these events come amidst wider disruptions in the tech industry—with several major companies announcing significant staff reductions to contend with lower-than-anticipated revenues—they also align with the blockchain hype cycle.
In June 2019, Trade Finance Global (TFG) profiled TradeLens in our first Blockchain and Trade Finance whitepaper, where we used the Gartner Hype Cycle as a framework to map the trajectory of blockchain applications in shipping and trade.
As we.trade and now TradeLens have entered into the trough of disillusionment, it is plausible that other blockchain in trade initiatives will soon follow suit.
On the other hand, this may be the beginning of a gradual rise back up to the plateau of productivity where the hype matches the actual state of the technology.
A different world
While the news of several prominent players in the space closing down this year may seem like a major blow to progression, it is important to understand that the industry is making substantial strides towards improving the broader ecosystem for trade digitalisation.
In each of TFG's 2019 and 2020 whitepapers on blockchain in trade, the legal challenges were cited as the largest challenge facing firms in the space.
However, the legal landscape is changing for the better.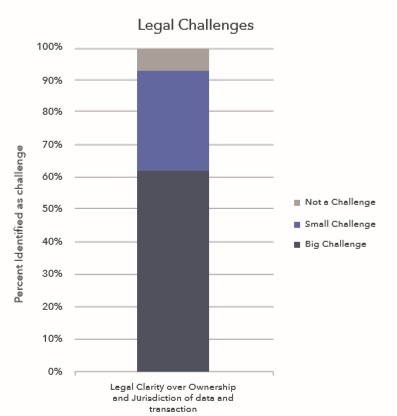 In October, the UK introduced a bill to parliament that would provide unambiguous legal backing for digital trade documents under English law, something that they did not have and which has been a major inhibitor in the space.
The lessons that Maersk and IBM have learned from their TradeLens, coupled with an easing of the legal and other challenges, may just open the door for the next set of digital trade disruptors to achieve the commercial viability that their predecessors were unable to.