All global industries require standards. Remember what a huge step forward it was when the carrier industry agreed on the design for a shipping container. The same is true for electronic trade documents and their supporting systems.
Digitised bills of lading are already enabling trading counterparties to get their hands on cargoes days or weeks faster, freeing up working capital along the supply chain. Now we need to take another major step forward in document standardisation and interoperability so we can share the transformative efficiencies of smart ports, maritime IoT technologies and 5G telecommunications.
The United Nations' push towards standardisation
Numerous international organisations including the United Nations Commission on International Trade Law (UNCITRAL), the UN Centre for Trade Facilitation and Electronic Business (UN/CEFACT), the World Trade Organization and the World Customs Organization have been working towards common standards and data-sharing, as have some of the world's biggest carriers. UN/CEFACT, for example, finalised a framework agreement on paperless trade in 2016.
Carriers and ports can sense the opportunity
Alongside these UN-sponsored initiatives, five of the biggest container lines in the world – Maersk, CMA CGM, Hapag-Lloyd, MSC and Ocean Network Express (ONE) – have also launched the Digital Container Shipping Association (DCSA) and pending regulatory approval, will be joined by Evergreen Line, Hyundai Merchant Marine, Yang Ming and ZIM.
The emergence of blockchain technology in trade documentation has also given impetus to the search for common standards. Maersk and IBM, for instance, have come up with their own TradeLens platform, while another consortium based in Shanghai is also working on blockchain trade initiatives. This includes COSCO, Yang Ming and CMA CGM along with port operators DP World and PSA International and the technology company CargoSmart (Global Shipping Business Network). The EU is active in this quest as well.
The future may be one of multiple standards
Although standardisation has plenty of momentum, no global consensus has yet been achieved. UN/CEFACT and the WCO can only make recommendations and acceptance will be a matter for individual companies or national regulators. The picture is complicated by banks having their own idiosyncratic transaction and systems which are subject to strict regulation.
Cross-border governmental cooperation may well be necessary to kickstart acceptance and implementation of new standards. Yet once significant trading nations and blocs such as the US, China and the EU reach a consensus, then the rest of the world will fall in line. It is true too, that carrier industry consolidation will influence how standards evolve.
In view of this complexity, no single set of standards is likely to gain universal acceptance. Carriers, shippers and importers may have to move between different standards, as happens in international banking.
Whichever standards are adopted, they must not introduce additional costs or add to existing constraints. Solutions must be future-proofed without requiring new processes or system upgrades. In addition, they must support and express all legal obligations, data governance and privacy requirements. This includes, for example, the 2016 implementation of the IMO's Verified Gross Mass Declaration.
Interoperability will require neutral third party platforms that work in the real world
Interoperability between systems will also require several neutral third parties, whose platforms need to be tried and tested by existing networks of carriers, banks and corporates. This cannot be left to chance. Big name companies in world trade must already trust and rely on them and they need to be recognised by industry bodies such the International Group of P&I Clubs which collectively ensure more than 90 per cent of the world's ocean-going tonnage.
Any platform needs to demonstrate not only gains in terms of speed, security and automation, but also the ability to achieve full integration with the entire global supply chain. Standards are not only about technology but also about legal compliance and the assurance that documents are legally watertight in a respected jurisdiction. Platforms must be safe, fast, agile and perfectly suited to the multi-faceted demands of banks, carriers, forwarders and corporates. 
Advances in document digitisation mean we are on the brink of exciting change in the global trade system. Everyone must, nevertheless, understand that for new standards in documentation such as bills of lading to work effectively and securely right round the globe, they must be underpinned by platforms that already have an established network of significant banks, carriers, forwarders and corporates. Innovation has to be accompanied by, or embedded in, real world solutions that big players are ready to adopt.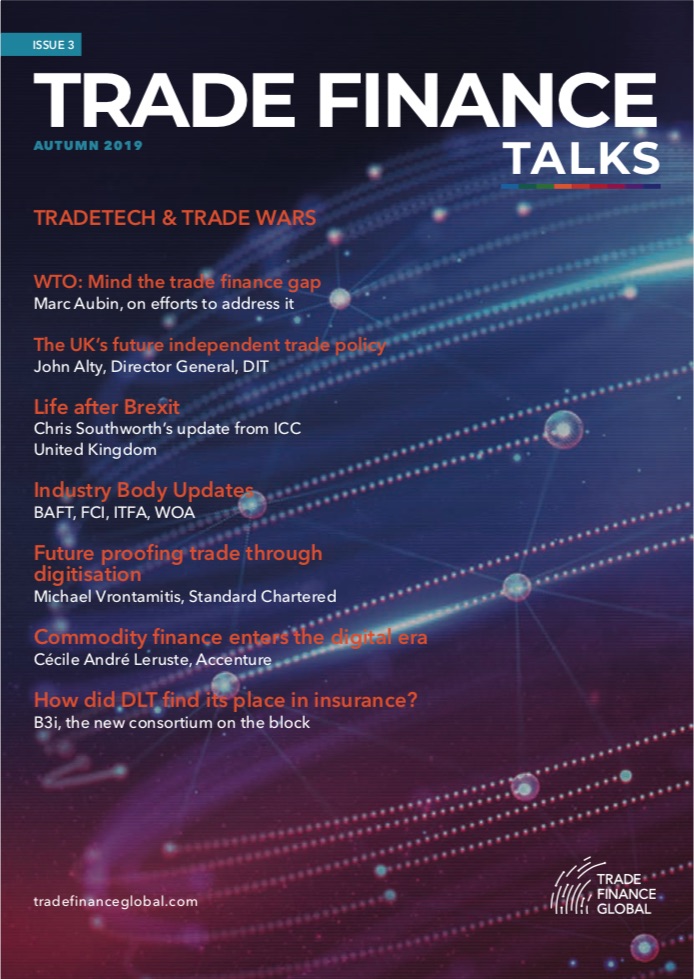 Read this full issue of Trade Finance Talks, free
This article was part of TFG's third issue of Trade Finance Talks: Trade Wars & Tradetech, launched at Sibos 2019. This free issue gets into the detail of trade wars, trade flows and geopolitics, as well as looking at how digitisation and fintech is bridging the trade finance gap. You can read the full edition for free here.
#maketradenotwar