The Berne Union released its latest Business Confidence Survey this week amid mounting geopolitical uncertainty.
This latest rendition of the quarterly report shows that demand for export credit insurance is growing. This phenomenon appears to stem from heightened geopolitical risk around the world and the overall bleak economic outlook.
Paul Heaney, Acting Secretary General at Berne Union, said, "Right now, geopolitical risk is pushing up demand, while the fragile economic environment ultimately means more expensive finance and less underlying trade and investment activity."
Claims expectations throughout 2022 have increased for the medium-to-long-term market and especially short-term business.
On the opposite end of the transaction, underwriters remain cautious given the growing level of global insolvency, causing many to further limit their risk appetites looking ahead to the final quarter of 2022.
Demand for coverage is on the rise
Insurers in both public and private sectors reported rising short-term demand in the second quarter of 2022, even higher than expected.
Several cite rising prices as one of the drivers of higher demand but also highlight that much of the growing demand comes from existing clients requesting higher limits.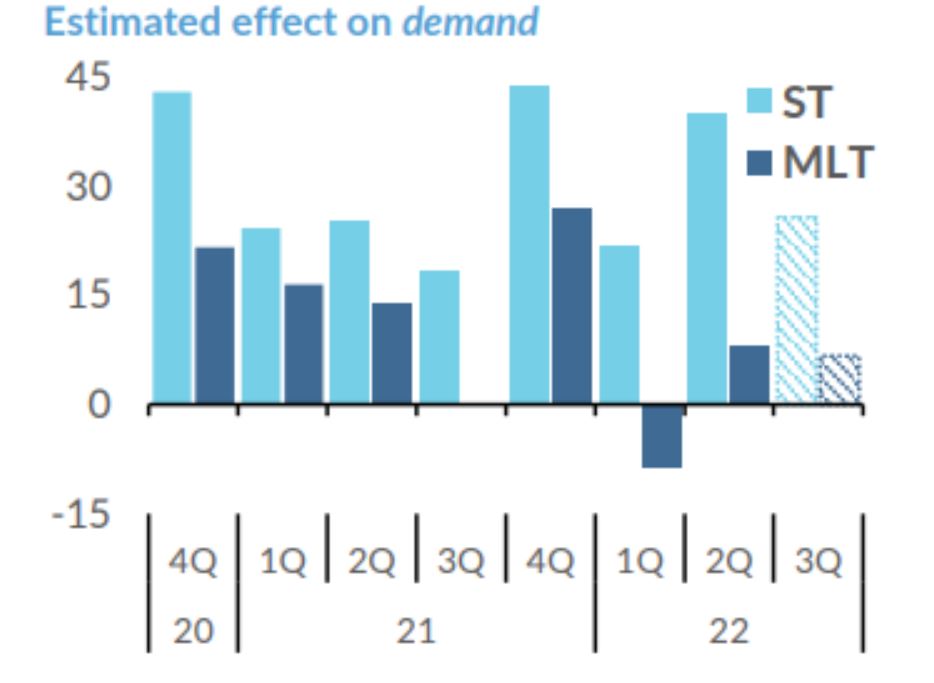 Demand in the medium and long term has also increased, but to a lesser degree.
Market indicators suggest that rising interest rates, inflation, and risks associated with the conflict in Ukraine are all contributing to medium and long-term growth.
A declining number of underlying projects, however, appears to be tempering the trend.
The Berne Union expects demand to continue to grow in the third quarter of 2022 with only European export credit agencies (ECAs) anticipating somewhat lower demand for medium and long-term risks.
Heaney added, "Looking at the patterns recorded in our BCI over the past couple of years is quite revealing about the underlying dynamics of both our industry and products.
"We can see both the counter-cyclical role of export credit insurance as risk pushes up demand, as well as the interplay between public and private sectors of the industry, adapting to take more or less share of the risk as gaps and opportunities emerge."
The Business Confidence Index
Launched in 2021, the Berne Union Business Confidence Index aims to measure the overall perception of demand, risk appetite, and claims in the export credit insurance industry.
The Union compiles the index using quarterly snapshots of member assessments of these factors, distinguished between short-term and medium to long-term.
You can access the latest version of the Business Confidence Index report here.