International Trade Professionals Programme Hub – Trade Finance Global
Congratulations and welcome to the ITPP 2021 Cohort! We are delighted to have you on board, and look forward to receiving your article over the coming weeks, as part of this competition.
Next stages
1. Join our Community
Join our Whatsapp and private LinkedIn group by: 30th July 2021!
2. Watch a recording of our global meeting
On demand
3. Ready…set… get writing!
Confirm final topic: 10th August 2021!
4. The Competition (and the courses)
Announced after the 1st September 2021
1. Join our Community
Welcome to the club! We've created a Whatsapp Group & a LinkedIn private group for you to share ideas and knowledge, inspire your fellow cohort, engage and connect.
2.Watch a recording of our global meeting
We hosted a global live meeting for all participants. It was only 30 minutes, but our Editor, Deepesh Patel, and our partners joined you for a quick primer on how to choose a topic, how to write, and why trade education is so important.
You're now ambassadors for the trade community, and we're going to help you achieve this!
Global Welcome Meeting – International Trade Professionals 2021
July 29, 2021 12:30 PM London
Link to the meeting recording is here.
Download the slides here.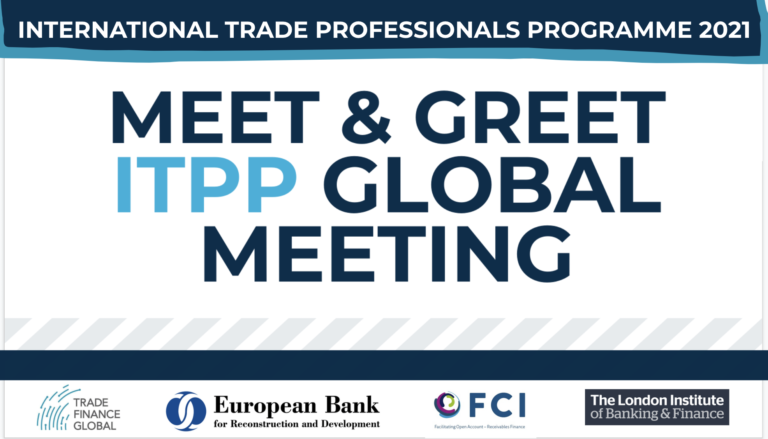 3. Ready…set… get writing!
We've put together a guide for the structure of your essay / literature review. Read the guide, check out our post templates and example posts. We'll give you the flexibility of choosing your own topic and subject, but we will give you some ideas to get you started.
We would ask you to confirm the topic and subject, and then leave you to send us your draft for review.
Once you have sent us your final drafts for the posts we will send you feedback before it's submitted to the panel as part of your entry to ITPP.
We've listed the topics and geographies below, and suggested some possible headlines and subjects as starting points. Please use these to have a think about the kind of areas you would like to write about, and then let us know over email what is of interest to you.
Sectors
ESG
Environmental, Societal and Governance in Trade and Supply Chains

Sustainable Trade Finance

Climate change and trade

Post pandemic recovery
Core trade
Open account versus documentary trade

MSME access to trade finance

SCF 

Trade as an asset class / secondary trade finance / distribution

Correspondent Banking and Trade Finance 

Digitalisation of Trade Finance and Correspondent Banking

Working Capital versus Trade Finance 

Pricing of Trade Finance transactions
Risk and insurance
Trade credit insurance

ECA financing

Development bank / DFI / IFI financing

CPRI outlook
Shipping and logistics
Challenges and moving forwards

International Commercial Terms (Incoterms 2020)

CMA and inspection agents

Vessel tracking
TradeTech
Digitalisation of trade and supply chain finance

Blockchain for trade

Trade document digitisation

Fourth industrial revolution
Trade
BREXIT

AfCFTA​

RCEP and ASEAN trade

Eastern Europe

Future of the WTO
Compliance and fraud
Commodity trade finance frauds

KYC and tech

CTF and trade

FASB / IFRS

Supply Chain Finance definitions
Commodities
Metals

Mining

Soft commodities

Agri finance

Oils / non-renewables

Energy / energy transition
Geographies
All Geographies Considered, especially Emerging and Developing Economies (EDEs), LATAM, Africa, Asia Pacific, China and MENA. 
Sending your draft post to us
Send your draft posts to education@tradefinanceglobal.com for first review, and someone in the team will review and send over feedback. As mentioned before, we might ask you to make some changes. We will also check your work for plagiarism and duplicate content.
Deadline for final submission: 25th August 2021!
4. The Competition (and the courses)
The gold tier winner will receive a panellist position at an LIBF conference, and an LIBF course.
The top 5 silver tier winners will receive access to one of the six courses provided by The London Institute of Banking & Finance (LIBF). Participants on the programme can choose their preferred course. This includes the study materials, examination and certification. Each winner will receive access to one of the courses, listed here. More details will be made available once judging has been completed and winenrs announced.
The 10 bronze tier winners will receive an FCI course here.
But everyone is now part of our ITPP 2021 Cohort – so there will be much more to come!
Community Guidelines
The ITPP cohort aims to be a professional, informative and supportive community where people can share their passion, perspective and insights into global trade, as well as interact, communicate and debate with like minded professionals from all around the world! We aim to make trade education available to all, removing the barriers of trade finance, by providing insights, thought leadership and great content, showcasing the community across TFG's platform and beyond.
While we're excited to hear from you, it's important to note that any content produced by or within the community are not representative of the opinions of Trade Finance Global.
As part of our commitment to you, we'll do our best to ensure the postings and content are in line with our philosophies.
We have put together some simple community guidelines, that you'll all need to adhere to in order to make this programme successful.
Community Guidelines for ITPP
We're all in this together to create a welcoming environment. Let's treat everyone with respect. Healthy debates are natural, but kindness is required.
No Hate Speech or Bullying
Make sure everyone feels safe. Bullying of any kind isn't allowed, and degrading comments about things like race, religion, culture, sexual orientation, gender or identity will not be tolerated.
Give more than you take to this group. Self-promotion, spam and irrelevant links aren't allowed.
Respect Everyone's Privacy
Please do not privately communicate, call, message, or 'add' other members of ITPP outside of the official groups that TFG have set up, unless you have their express permission and consent in advance. If as a community member you find anyone doing this, please let one of the admins of the group know immediately.
Being part of this group requires mutual trust. Authentic, expressive discussions will make ITPP great, but may also be sensitive and private.
These guidelines are effective immediately. Failure to adhere to the community guidelines will result in being removed from the group and the 2021 programme. We will closely monitor the community and may wish to make changes to the guidelines as we see fit, with the best intention to support inclusivity and friendly collaboration in a safe and compliant environment.
As a community member, if you see a member of the cohort not adhering to the rules, we ask you to let any of the TFG teams or admins know, or to contact education@tradefinanceglobal.com immediately. Your feedback will be kept anonymous.
If you wish to no longer be part of ITPP 2021, please feel free to remove yourself by emailing education@tradefinanceglobal.com, or getting directly in touch with the admins of the groups through LinkedIn or WhatsApp.
Terms and Conditions
Entry Rules
This competition is run by TFG Publishing Limited ("Trade Finance Global", "TFG", "we" or "our") and is open to all residents aged 18+ who submit an application to the TFG competition page. Doing so will give you the opportunity to win the prize as described on the scholarship page.
Your participation in this competition is at your sole option and risk. No purchase is required to enter.
By entering this competition you agree to be bound by these terms and conditions.
You may not participate if you are a TFG employee, agent or employee or agent of a TFG affiliate company, or a family relation of any such employee or agent.
You may not enter this competition more than once and you are only eligible to win one (1) prize. We reserve the right to disqualify anyone ignoring this rule.
The competition opens on June 30th 2021 at Midday UK time. You must submit your entry by 23:59am UK time on 14th July 2021.
Information submitted in this competition must not be abusive, offensive or defamatory. We will put through any relevant photo for voting but reserve the right to refuse irrelevant information as determined at TFG's sole discretion.
TFG cannot accept any responsibility for any technical failure or problem which may result in any entry being lost or not being properly registered.
TFG will only cancel, suspend, or amend the competition if required to do so for legal, regulatory or security reasons.
All valid entries will be assessed by a panel constituting TFG staff and an independent judge. The panel will award points for originality, inspiration and interest and a winner will be chosen on this basis. The decision of the panel will be final and no correspondence will be entered into regarding that decision.
We reserve the right to substitute the prize for an appropriate alternative.
The winner will be contacted by email by Midday UK time in September 2021 
The winner must confirm their acceptance of the prize by replying to our email with their name, email address and telephone number.
If the prize remains unclaimed after five (5) days, we reserve the right to select an alternative winner.
The winner will receive their prize within thirty (30) days after claiming their prize.
TFG will use the winner's Twitter handle when announcing the winner and you agree that your name may be announced on TFG social media for publicity purposes.
These terms and conditions are governed by the laws of England and Wales whose courts shall have exclusive jurisdiction.
You must accept the community guidelines in order to participate in the programme
You may not enter this competition if you successfully secured a place in last year's ITPP cohort
Our ITPP Partners