Celebrating International Women's Day 2024
What is the International Women's Day 2024 theme?
The theme of International Women's Day 2024 is #InspireInclusion. Inclusion is the pathway to creating a world that welcomes everyone. As a society, it's crucial that we not only embrace but actively promote inclusion across various aspects of life, including well-being, employment, technology, sports, and social leadership. Inclusion involves ensuring impartial treatment, providing equal opportunities, and unrestricted access for all individuals. A key aspect is recognising the existing advantages and barriers that have hindered women, in particular, from participating and progressing in various domains.
Our Campaign
Our campaign acknowledges the barriers that have historically held women back in different areas. This year's initiative urges allies to contribute to the social, economic, cultural, and political advancement of women. When women are included and empowered, it's not just a win for them—it's a win for society as a whole. It's an investment in a brighter, more innovative future where everyone can contribute their unique skills and insights. This campaign's objective is to celebrate and showcase women's achievements, aiming to inspire others to pursue careers in trade, treasury, or payments, demonstrating that success is attainable.
As we commemorate International Women's Day 2024, we'll shine a spotlight on the careers, experiences, and achievements of women in international trade, treasury, and payments. It's time to witness women breaking barriers and excelling in fields that were once dominated by men.
What does #InspireInclusion mean to TFG?
#InspireInclusion embodies our commitment to breaking down barriers. At its core inclusivity requires a shift in mindset. It's about questioning biases and challenging preconceived notions. It's acknowledging that equality isn't achieved by treating everyone the same but by addressing individual needs and circumstances. Inclusivity is about ensuring that no voice is left unheard, no talent is left untapped, and no opportunity is unfairly denied.
The theme calls on individuals and societies to actively participate in the ongoing journey toward a more inclusive world. It's an invitation to be allies, advocates, and catalysts for change. By understanding, appreciating, and actively promoting inclusivity, we pave the way for a future where every woman has the chance to thrive and contribute to the fullest extent of her abilities.
Event Details
Date: 7th March 2024
Location: The Lansdowne Club, London
Agenda:

Private Sponsors Session (Afternoon)

Lunch
Roundtable discussion
Video Interviews


Open Session (Evening)

Keynote speeches
Panel session
Refreshments
Networking
Drinks
Our Digital Campaign
We are thrilled to announce our launch of our digital campaign to mark International Women's Day on 8th March. In line with the IWD 2024 theme, we will be promoting inclusion across the globe by celebrating careers, experiences, and achievements of women in international trade, treasury, and payments.
We extend a warm invitation to nominate a deserving female colleague to join our Women in Trade, Treasury & Payments digital campaign. This presents an excellent opportunity for your colleague to receive recognition for their accomplishments in the fields of trade, treasury, and payments.
This year, TFG are inviting allies to partake in our Women in Trade, Treasury & Payments digital campaign, by requesting that each nominee also puts forward an ally. This individual will promote and support our digital campaign to further #InspireInclusion. An ally could be a boss, mentor, colleague, personal / professional connection, etc.
To nominate your female colleague, simply fill out the form below. We will then be in touch with the subsequent steps. It's important to note that submissions and participation are free of charge.
The deadline for submissions is Wednesday 13th December 2023.
Please note, successful submissions of the digital campaign will be launched at our Women in Trade, Treasury & Payments in-person event on 7th March 2024, at the Lansdowne Club, London. 
If you are interested in sponsorship opportunities for our 2024 event, please contact us at wittp@tradefinanceglobal.com
---
Our 2023 Women in Trade, Treasury & Payments Sponsors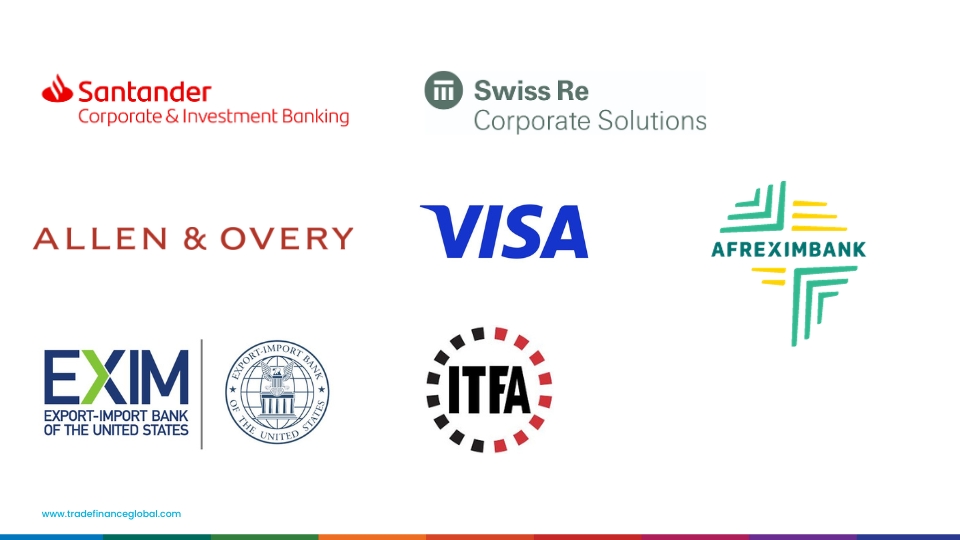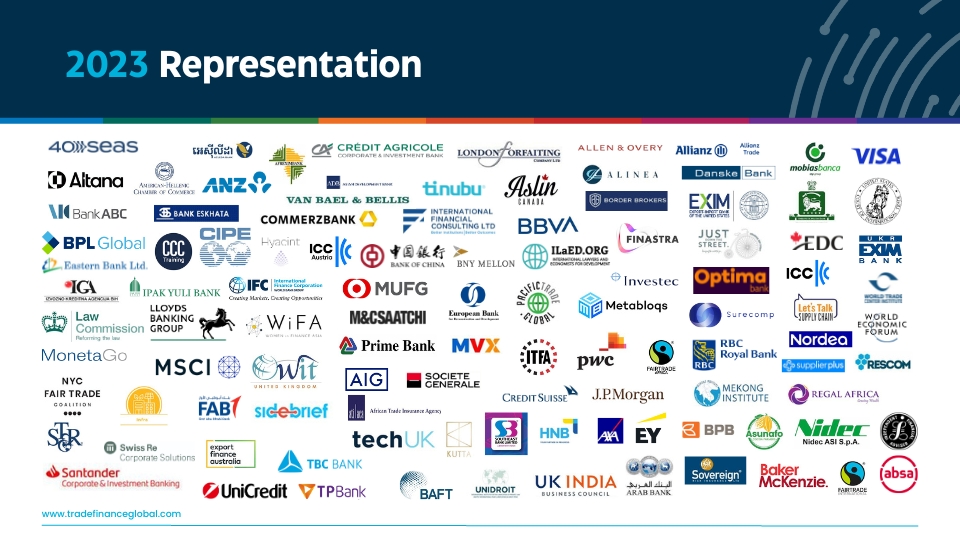 ---