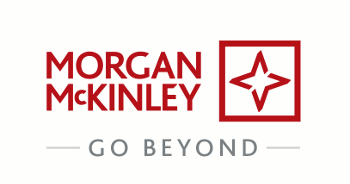 Morgan McKinley – 'Runner Up' Best Banking Recruitment Provider
Morgan McKinley was awarded the Trade Finance Global Runner Up prize for "Best Banking Recruitment Provider". We spoke to David Leithead, Executive Director at Morgan McKinley.
In 10 words or less, what does Morgan McKinley do?
We 'Go Beyond' to connect specialist talent with leading employers.
Where do you see banking recruitment in the next 3 years, and what do you see as the main future global trends in the sector?
In terms of demand for talent, every year we see a new zenith for the specialist, and who would argue against that trend continuing. The industry continues to undergo huge changes as risk appetite withers in the glare of public and regulatory scrutiny. Getting that regulatory and compliance angle right is going to continue to be a key focus.
At the same time new ways of working, and new business opportunities must be sought out. Technology is at the core of that, whether that's creating innovative product offerings, restructuring pre-digital processes, or warding off security threats. So specialists who can add value will continue to be in high demand and the war for talent will continue unabated and regardless of the overall market conditions.
What is changing in the banking recruitment market?
As the nature of the industry has changed, so the great volume of hiring associated with the mega-banks of yesteryear has certainly waned and will probably never return. Some big bank bosses talk of hiring freezes and some have singled out recruitment fees as a key target for cost savings.
But there are other firms who are taking the opposite stance and investing in building future talent pipelines. A major theme is the pursuit of a more diverse workforce, and here recruitment companies must play a major part. Also, the banking sector's SMEs will be major players in the recruitment market.
The sector is fundamentally entrepreneurial and as the big companies creak under their own weight, new businesses emerge from their shadow and that stirs and excites the talent in the industry.
2015 was an excellent year for Morgan McKinley. Globally, we had a strong year of growth, outperforming our competitors in many markets. So we're delighted to receive this recognition from Trade Finance Global for our market insight and informative approach to recruitment. We are determined to be the winners next time!
David Leithead
UK COO, Morgan McKinley
What is the strategic focus of the company in the short to medium term? (1-5 years)
We recognise that the value proposition of recruiters is changing. We're still here to connect talent with opportunity, but increasingly our clients are looking for more: for insight, for consultancy, project management, and solutions.
They also want to see changes in the way we work and the way we interact with them. So we press on with our strategic focus to be creative and innovative in our service delivery.