Out with the old, in with the new
It has finally started to happen in Trade Finance business domain when it comes to application of emerging technologies helping to create new ways of approaching the old business processes. The old way of working has created many challenges for global trade in addition to political protectionism now also generating stress to exchange goods and services internationally. The additional challenges may be listed as lack of trust and true global interoperability as well as local and regional political agendas and regulations.
Collaboration is key
After many years of futile discussion and presentations between market stakeholders, originating from Finland we established a collaboration team called Standardised Trust. During the first two years of Standardised Trust work we have realised a multitude of groups addressing very similar challenges, yet many of those are somehow technology- or one stakeholder group views heavily putting weight onto agenda and setups.
In our original White Paper (May, 2017) we set the goal to improve the status quo by creating a common semantic model for Trade Finance (TF) to be used by various existing and new solutions within the business area. This would make solutions to be reachable and affordable for bigger masses of global trade counterparties so that even smaller companies can participate more easily and by this participation would increase the overall trust in the business. Neither own solutions nor platforms creation by the community but rather having tools and language to enable vendors and market infrastructures to act in a more interoperable way.
SWIFT is able to solve this, right?
In the community we follow-up TF standards, technology and other similar type of groups and communities.  SWIFT, with the MT7xx message set and model, has had a key role in enabling the banks and SWIFT connected corporations to operate with TF instruments electronically.  MT7xx message set is not necessarily the best fit in its data model to modern platforms and therefore our community has also examined the ISO 20022 business and data model as basis to finetune it for our community purposes.  It is more structured and well-designed to act as a cornerstone. SWIFT also will need to find its new way as a key enabler in TF as the Bank Payment Obligation product will be soon shut-down as well as the need to include smaller than SWIFT member corporations into the digital trade finance.
Distributed Ledger Technology, the way forward?
Many Blockchain/Distributed Ledger Tech initiatives have also challenged the traditional message-based communication and integration model by SWIFT. R3 Voltron for electronic Letter of Credits, we.trade for smaller company digital trade and R3 Marco Polo for Open Account Trade Finance just a few to mention in this respect. When all the key players are participating in the same platform based on atomic transactions and smart contracts of Distributed Ledger Technology, the messaging is not needing. Yet a need of transaction status follow-up and standardised transaction payload semantics play key role to make these new platforms better interoperable.
There are ICC rules; no need to worry
ICC TF instrument rules, as well as ISBP sets, are well appreciated and in close evaluation by our End-to-End business process working group. ICC also has a work in progress to renew many of the rules sets applying next year to be better aligned to more digital trade finance. At the Standardised Trust community, we also try to have a challenging view on the traditional ICC rules set and build some more concrete rules within the upcoming semantic models and the community work was started from bank guarantees. There is no competition needed here, rather we would like to collaborate well with ICC digitalisation working group as well.
Standards and semantics is needed
We can discuss endlessly should a digitalisation of any business domain happen as business rules renewal or technology-driven. Some claim, for example, Blockchain technology being a hammer searching for a nail. Would it be either-or, we have to speak the same language in basic concepts and abstracts. A similar type of observation was made by R3 project team and members of Marco Polo (Open Account blockchain platform) who decided to separate Universal Trade Network standardisation and harmonisation workgroup from the project and invite external members to join to address the global trade challenges discussed earlier.
Financial crime, sanctions, cybersecurity – easier digitally?
When moving to more digital platforms and real-time financial operations, the risk of fraudulent actions will increase. This is true, yet in Trade Finance current, very traditional and paper-based transaction processing is also a gold mine for fraudsters. Many of these types of criminal activities can be taken care of with better computer-aided and standardised processes and controls. But it is a fact in the global scope of Trade Finance, that moving to a digital environment enables new ways of harassing the actual trades. The Wolfsberg Group has come to this arena by defining Trade Finance Principles papers from the year 2011 and now also collaborating with ICC and BAFT on these guidelines addressing the key elements of secure and safe trade and its financing instruments.
We have the tech and business expertise – let's collaborate and use them together
It is not only Distributed Ledger Tech to be followed as a possible Trade Finance digitalization problem solver, but also Internet of Things, GPS, Artificial Intelligence (Machine Learning and Natural Language Processing) as well as better integration with Application Programming Interfaces are about to improve the status quo. In the Standardised Trust community, we try to cater the basics of technology for our business process experts and designers to rethink, innovate, and possibly even agree on development needs with the processes to utilize better new tech options and features. Let's give business experts the tech legos and tech experts a business reality check and we have the best possible combo to collaboration and problem-solving.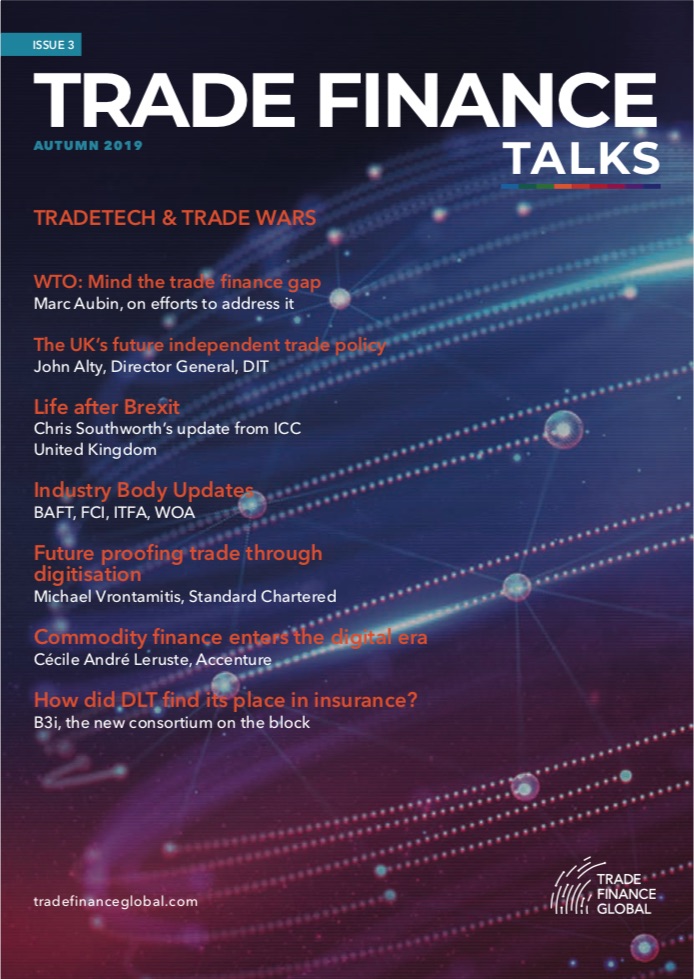 Read this full issue of Trade Finance Talks, free
This article was part of TFG's third issue of Trade Finance Talks: Trade Wars & Tradetech, launched at Sibos 2019. This free issue gets into the detail of trade wars, trade flows and geopolitics, as well as looking at how digitisation and fintech is bridging the trade finance gap. You can read the full edition for free here.
#maketradenotwar