Boris Johnson has now formally accepted the Queen's invitation to form a government. TFG heard from leaders in trade, treasury, export and finance.
Trade Finance Global spoke to leaders in trade, treasury, export and business on the recent news, and what businesses need.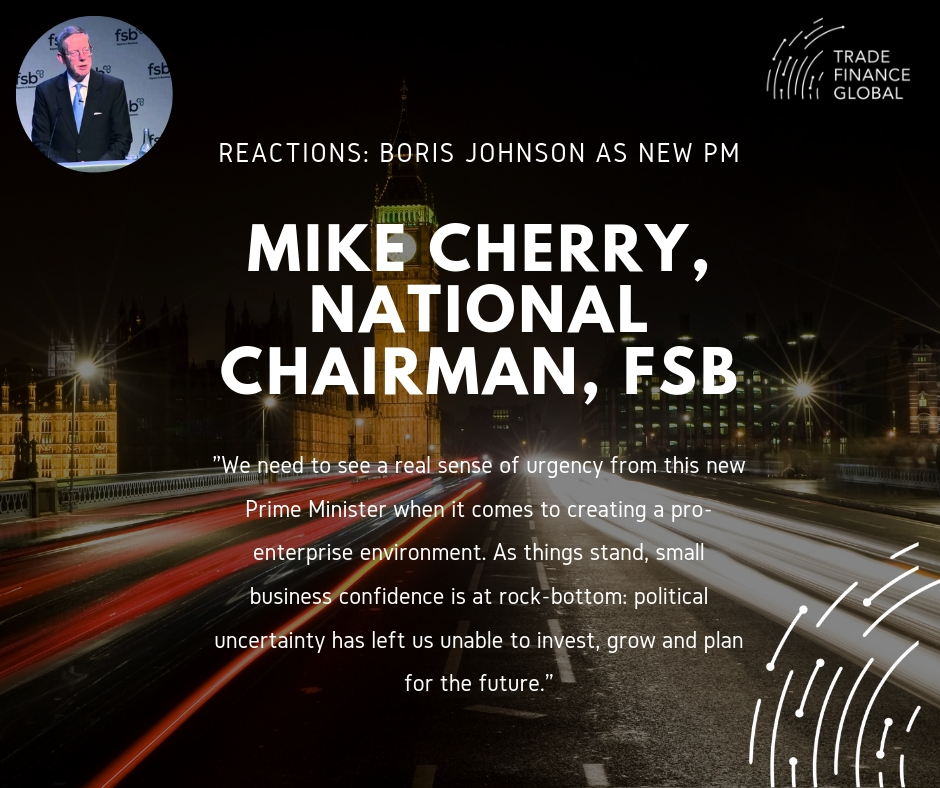 Mike Cherry, National Chairman, FSB
"We need to see a real sense of urgency from this new Prime Minister when it comes to creating a pro-enterprise environment. As things stand, small business confidence is at rock-bottom: political uncertainty has left us unable to invest, grow and plan for the future. The UK has long been one of the best places in the world to do business. It's crucial that we keep it that way.
"Securing a pro-business EU withdrawal agreement that can command a majority in the House of Commons is task one for this new administration. Brexit has been absorbing government bandwidth for years now, leaving domestic challenges unaddressed. Chief among these are a broken business rates system, spiralling employment costs and derisory broadband and phone connectivity." said Cherry.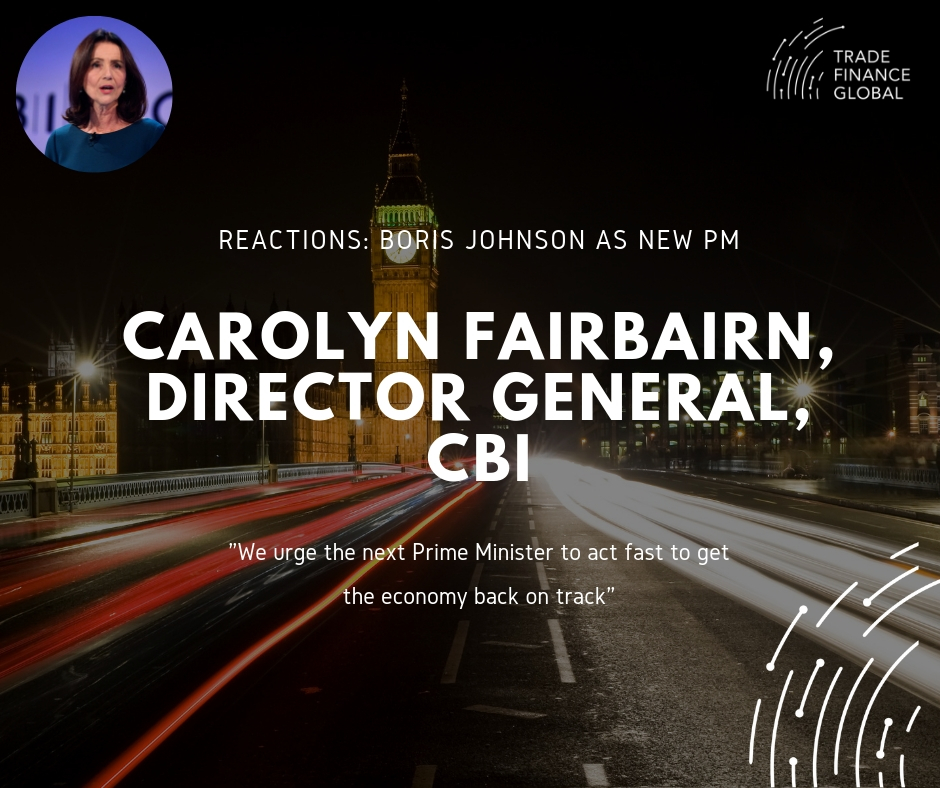 Carolyn Fairbairn, Director General, CBI
"We urge the next Prime Minister to act fast to get the economy back on track"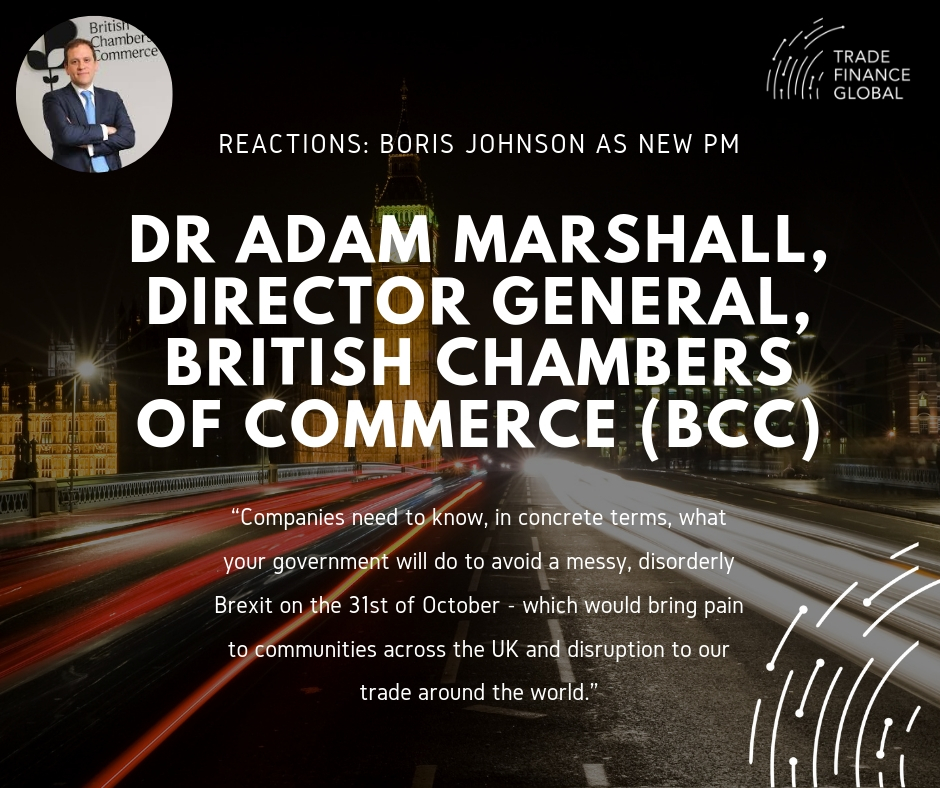 Dr Adam Marshall, Director General, British Chambers of Commerce (BCC)
"The message to Boris Johnson from business communities around the UK couldn't be simpler: the time for campaigning is over — and we need you to get down to business.
"Companies need to know, in concrete terms, what your government will do to avoid a messy, disorderly Brexit on the 31st of October – which would bring pain to communities across the UK and disruption to our trade around the world." said Marshall.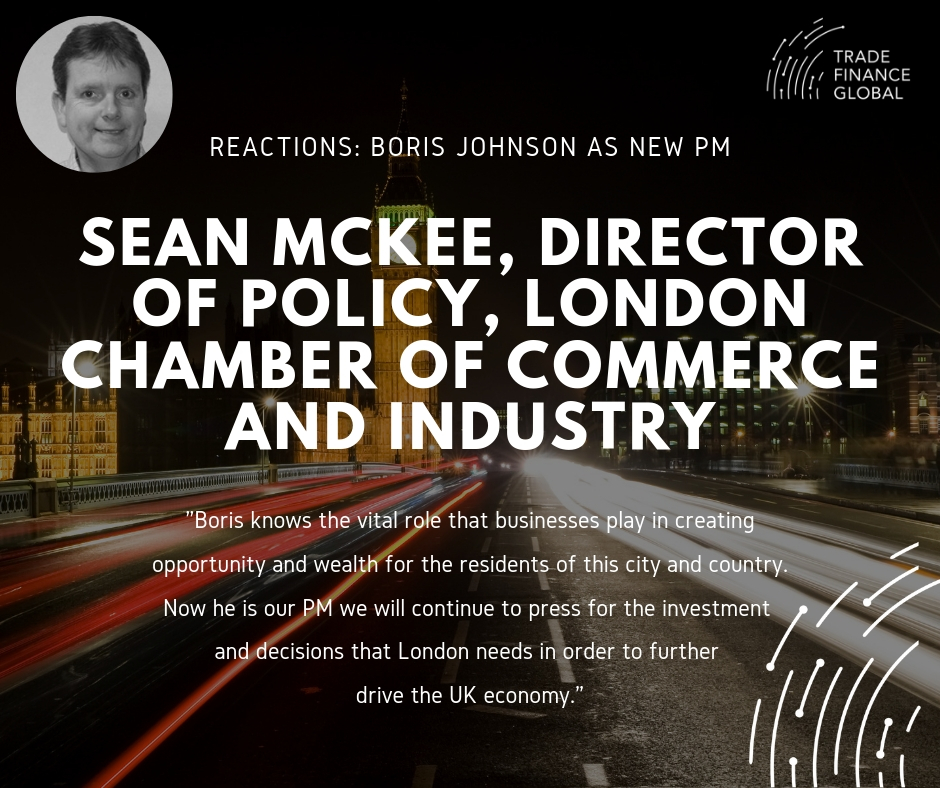 Sean McKee, Director of Policy and Public Affairs, London Chamber of Commerce and Industry
"LCCI worked closely with Boris Johnson, and his Business Advisory Council, during his time as Mayor and found him to have a strong pro-business outlook and a keenness to meet with business people to understand their concerns.
"Boris knows the vital role that businesses play in creating opportunity and wealth for the residents of this city and country. Now he is our PM we will continue to press for the investment and decisions that London needs in order to further drive the UK economy."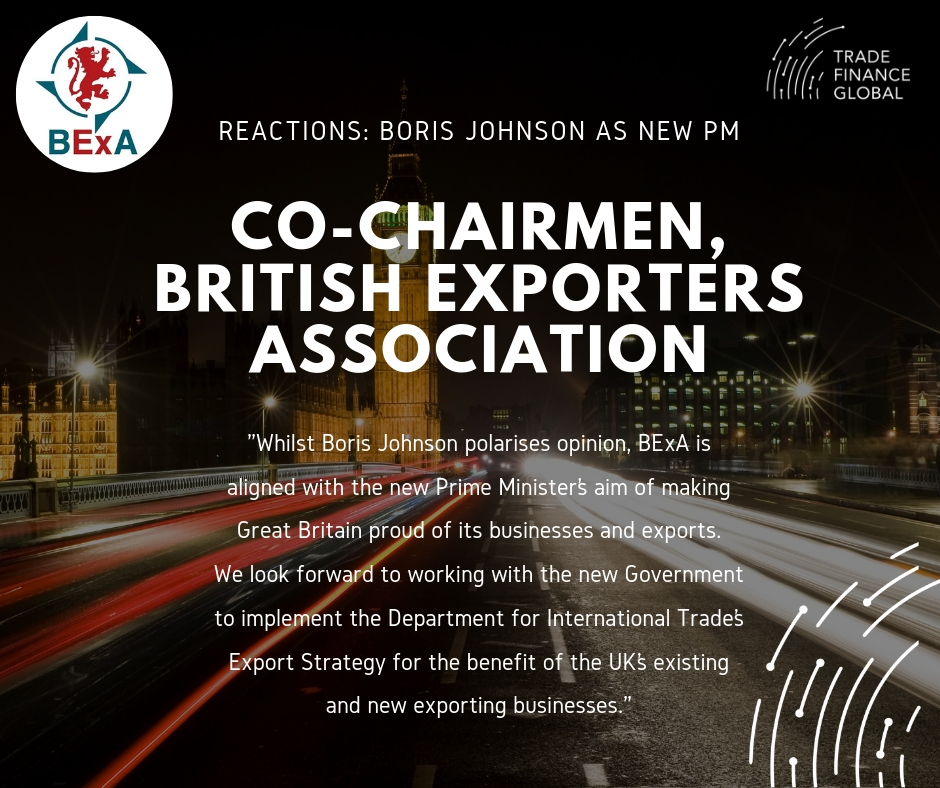 Geoffrey de Mowbray, Mr Marcus Dolman, Co-Chairmen, British Exporters Association (BExA)
"Whilst Boris Johnson polarises opinion, BExA is aligned with the new Prime Minister's aim of making Great Britain proud of its businesses and exports.
"We look forward to working with the new Government to implement the Department for International Trade's Export Strategy for the benefit of the UK's existing and new exporting businesses."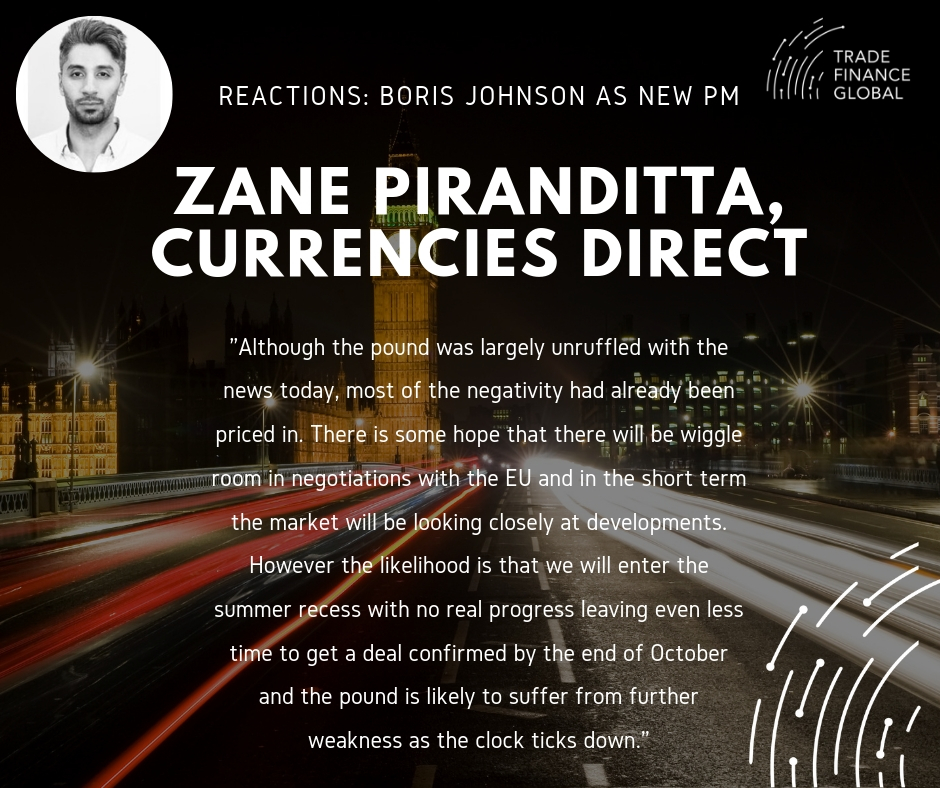 Zane Piranditta, Currencies Direct
"With the deadline for B-day now 99 days new PM Boris Johnson will have his work cut out to deliver Brexit as promised.
"As it stands all the old skeletons in the closet are still there and gathering more dust. Boris is entering office with no clear parliamentary majority and in fact with parliament firmly set against a no deal outcome. In addition the economy is teetering on the brink of recession and the Bank of England are turning more dovish in their outlook.
"Although the pound was largely unruffled with the news today, most of the negativity had already been priced in. There is some hope that there will be wiggle room in negotiations with the EU and in the short term the market will be looking closely at developments. However the likelihood is that we will enter the summer recess with no real progress leaving even less time to get a deal confirmed by the end of October and the pound is likely to suffer from further weakness as the clock ticks down." said Piranditta.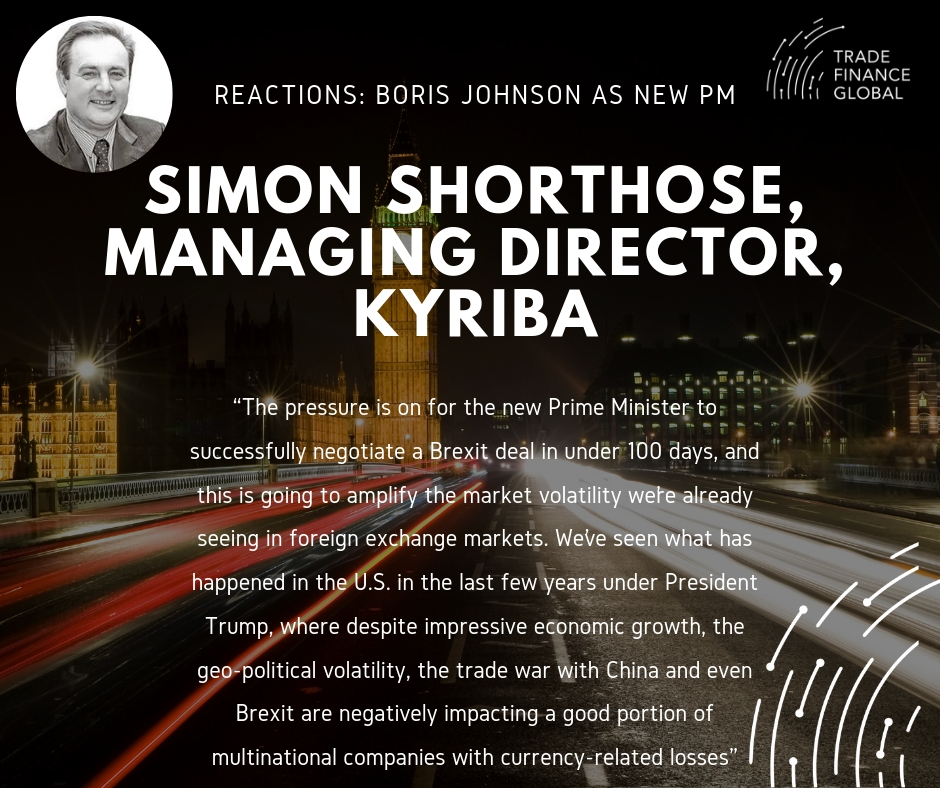 Simon Shorthose, Managing Director, Kyriba, Northern Europe
"The pressure is on for the new Prime Minister to successfully negotiate a Brexit deal in under 100 days, and this is going to amplify the market volatility we're already seeing in foreign exchange markets. We've seen what has happened in the U.S. in the last few years under President Trump, where despite impressive economic growth, the geo-political volatility, the trade war with China and even Brexit are negatively impacting a good portion of multinational companies with currency-related losses," said Simon Shorthose, MD for Kyriba, Northern Europe.
"For the short term, both the euro and the pound will likely fluctuate, tasking CFOs and treasurers to monitor and adjust currency exposures accordingly. If Johnson ends up closely following President Trump's playbook, expect some disruptions in trade and the supply chain depending on which way the Brexit negotiation ends up. This will further challenge corporate treasury to play a more crucial role in mobilising cash balances through effective liquidity management, efficiently deploying cash where it can be invested to generate top-line value. Financial Directors should prepare to seize new market share as the window of opportunity closes quickly in a fluctuating market," said Shorthose.
Keith Rockwell, Spokesperson, World Trade Organisation
"Obviously what we would like to see is the smoothest possible transition. We would not like to see trade disrupted between the United Kingdom and the members of the European Union," Rockwell. (Source: Reuters)