Estimated reading time: 2 minutes
The Reserve Bank of India announced on Wednesday that India's current account deficit witnessed a substantial reduction in the January to March quarter, primarily due to a moderation in the trade gap and a surge in services exports. The latest data reflects positive trends in the country's external trade dynamics.
During the fourth quarter of fiscal year 2022/23, the current account deficit amounted to $1.3 billion, equivalent to 0.2% of the Gross Domestic Product (GDP). This marks a notable improvement compared to the revised deficit of $16.8 billion, accounting for 2% of GDP, recorded in the preceding October-December quarter.
The release further indicated that in the same quarter of the previous year, the deficit had amounted to $13.4 billion.
The Reserve Bank of India said, "The sequential decline in the current account deficit in Q4:2022-23 can be attributed primarily to the moderation in the trade deficit, which reduced to $52.6 billion in Q4:2022-23 from $71.3 billion in Q3:2022-23, coupled with robust growth in services exports."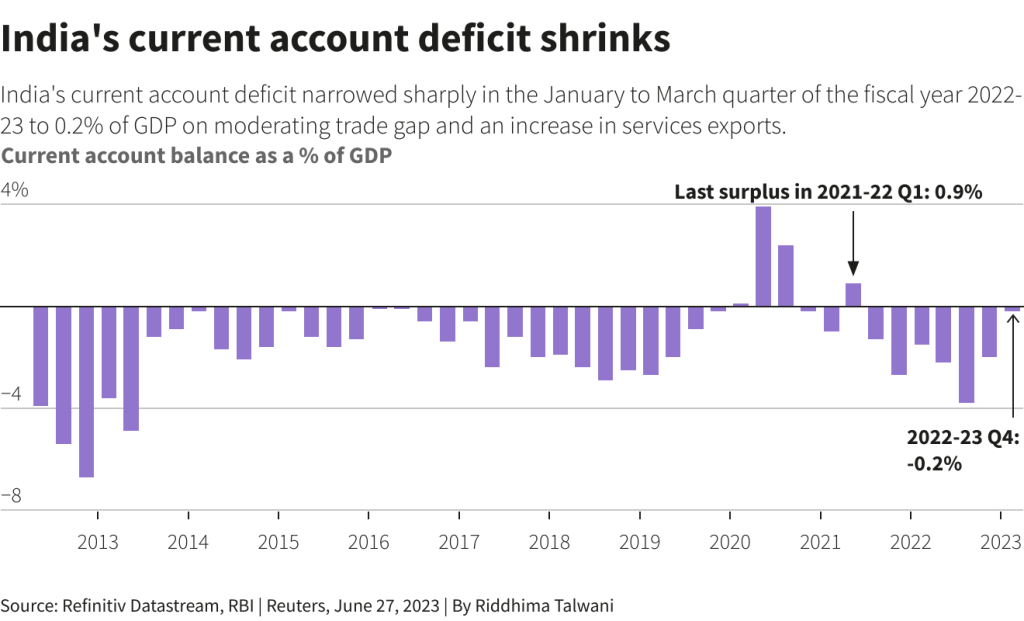 According to a Reuters survey conducted among 22 economists, the current account balance in the March quarter is expected to record a surplus of $3.3 billion, accounting for 0.4% of the country's GDP. The forecasts varied significantly, ranging from a deficit of $5.0 billion to a surplus of $7.8 billion, indicating diverse perspectives on the nation's external trade performance.
Bank of Baroda economist Aditi Gupta said, "We expect CAD to improve further to below -1.5% of GDP in FY24. Lower commodity prices as well as robust services and remittances receipts are likely to cushion the impact of lacklustre growth in merchandise exports."