The U.K. has always had a strong trade financing background but the question of legacy is a well talked about issue between industry veterans. Does trade financing have a future for new arrivals and if so what are the incentives?
Young Professionals
There is no denying that financial services are a staple in the British economy with it contributing over £119 billion in 2017 alone. With over 1.1 million jobs in the sector accruing approximately £27.3 billion in tax it is understandable why there is a belief that the industry is the 'place-to-be' for graduates and those looking for alternative career prospects. However, due to a move towards automation and digital commerce there have been job losses in traditional industries such as banking. This, coupled with eye-watering costs of living in financial hubs like Paris, Zurich, Hong Kong and London have deterred would be entrants to the field.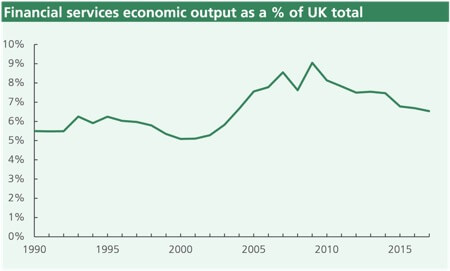 However, trade finance does not seem to fair the same way in comparison to its counterparts especially when consideration is taken on the opportunity in the market and lack of job saturation. As demonstrated below, the GTS 2014 Global Trade and Transactional Services Survey depict the shift from experienced to almost retirement in the make-up of the trade finance industry. "New Blood" has always been hard to come by but over 62% of the industry has over 10+ years of experience compared to <2 years that has fallen to 5%. Any recruiter, economist or trade financier 'worth their salt' would point to the obvious growth potential in the market and access to structured and well-developed career progression due to "legacy issues".
Taking the tangible job opportunities out of the situation for a moment, there are a few other major reasons why you need to know about trade finance. The industry itself has not adapted or changed in any major state since the 1970's and is ripe for disruption – a clear reason why young professionals, graduates and career movers would be perfect for the industry. With the rise of Blockchain technology, ICO's and software designed to simplify existing processes; trade finance is waiting for a long-needed update. Examples of this can already be seen with Blockchain-based platforms like Batavia that can reduce the paperwork side of trading internationally from 7 days to an hour. Opportunities for growth include the rampant rise of the middle class across the globe and emerging economies becoming the latest 'movers and shakers'. The industry should expect a new wave of professionals focusing on the growing need for accurate, fast and efficient trade across borders that have not necessarily been engaged with for some time.
Enticements
When looking at the benefits of working in trade finance it is important to separate firms that are entirely based on trade financing and others that have departments focused on the industry. Take the following three companies as case study examples of what is on offer for those who seek to enter the sector: Bibby Financial Services, BACB and Deutsche Bank.
Bibby's reward and benefits page has four parts, that is, "Recognising the valuable contribution you make (Pay)", "Core and Flexible Benefits", "Wider Package" and "Learning and Development". The key takeaways from this are that Bibby has both a Base and Variable Pay including incentive plans meaning their "colleagues are appropriately rewarded for their hard work and commitment". This coupled with their Pension scheme and well-being focused health assessments demonstrate a move towards a more inclusive employer. Not to mention the commitment to a wider benefits package including peer-to-peer recognition and the STARS programme where "non-sales colleagues can earn commission through referrals".
BACB follows suit in a similar way but with a focus on the 'Why?' factor rather than the 'What'. Culture, Benefits and Progression are the foundation of BACB's hiring and operating ethos with generous pension schemes of 10% contribution to up to 30 days' annual leave. The crucial thing to notice, however, is the 'Our Values' segment under Culture. BACB espouse the 'client first' approach whilst blending this with the ideology of "doing things differently" and anchoring it with the importance of teamwork. BACB is driven by its promises in development as a 'people business' and describes itself as: "For us, values don't create rules that we must all adhere to. Instead, they act as our guide, qualities that we can build into the things that we do, and the way we do them."
Deutsche Bank hosts relatable benefits and culture but the most notable difference is the pledge towards a balanced work and family life and stress management around your role. This validates a wider industry movement towards recognition and solutions in reducing mental health issues in the workplace. The schemes at Deutsche Bank also include part-time and mobile working opportunities including an enviable return to work programme for those who have taken parental leave
Culture, flexible benefits packages and work-life balance are all to be expected when working in the sector. This illustrates that trade finance has adhered to, and in many cases exceeded, the financial service industry expectations towards employment packages and feeds into the wider narrative that it is 'the next place to be'.
Solutions
There are varying techniques that the industry could use to combat and encourage new entrants into the sector, most of which already exist but haven't had the attention that they deserve.
Mentorship and Young Professionals Panel: The idea of partnering up young professionals with industry experts has been a long proven success in everything from social-capital building to knowledge sharing – Trade finance is no exception. The ITFA has established the Martin Ashurst Trade Finance Mentorship Programme to address the legacy issue the industry has but also to further much-needed career progression. The IFTA has also decided to set up a Young Professionals panel to hear from those who have experienced the transition into the filed directly.
Universities and Apprenticeship drive: Like all industries that hope to garner and train their own talent, Universities are a go to place for would be graduates. Establishing long-term connections with students starting from an insight week to an internship, placement and graduate role is the main way to get students on board. This comes at a time when employment is moving away from the transactional motions of simply applying to longer and more nuanced relationships. These reasons are also the same for apprenticeships as, in the U.K. at the very least, there are funds available such as the apprenticeship levy to help with setting up apprenticeship programmes; this also helps organisations to move away from academic snobbery.
Local/National Government Push: There is always a push by governments to contribute towards international trade but more could be done in terms of funding towards Trade financing industry on both a national and local level. Perhaps, an increase in funding for companies to help market their opportunities would be a step in the right direction.
Conclusion
Although there are many opportunities to succeed and progress career-wise in the financial sector, trade financing is almost an unsung hero in the industry. There is undeniable evidence that shows both vacancy and commitment to excellence for new employees whilst promoting flexibility, high-standards and values. There are distinct working areas to be improved on mostly focusing on marketing but steps are being taken in the right direction. Overall, it would be wrong for anyone to not at least consider Trade Finance as an option for their future whether it be long-term or otherwise. The insight it can bring into a world so entrenched in global trade should be reason enough.