The cigarette market is worth a staggering $816bn per year, selling 5.5tn cigarettes to 1 billion smokers. Despite a global drop in cigarette sales in the last ten years, company revenues keep growing. How so? TFG investigate how the Tobacco industry keeps on growing…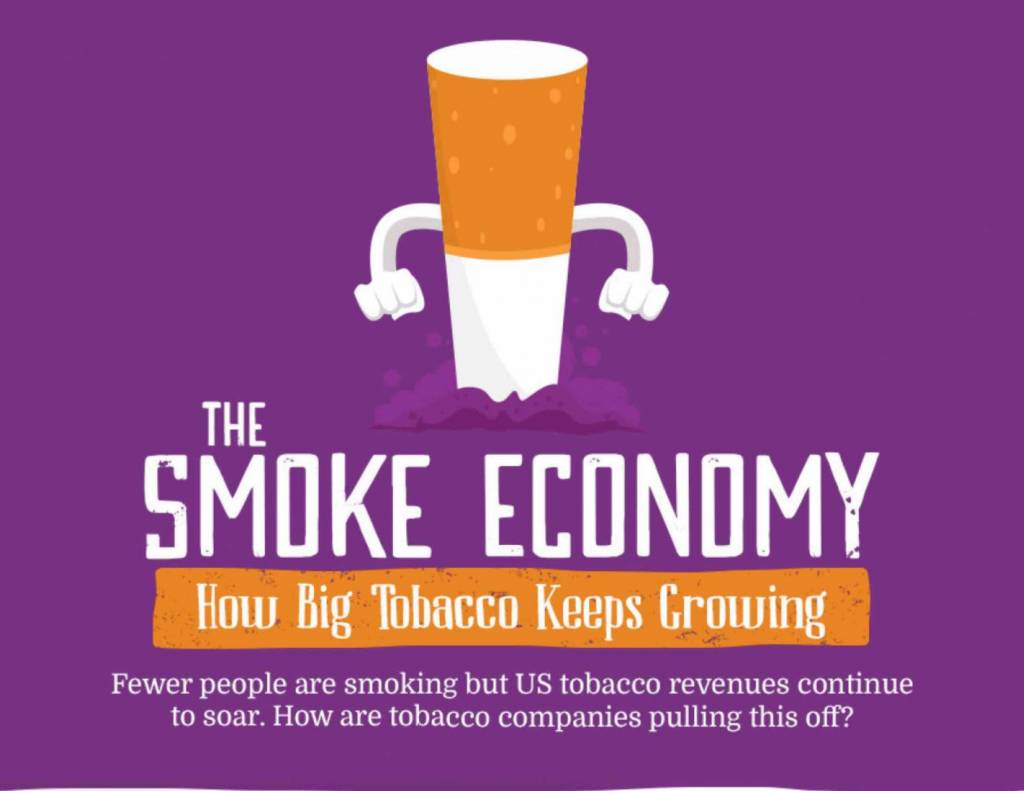 Not too long ago, tobacco companies could advertise their brands freely and TV commercials and events regularly featured cigarette products. For a long time, they had free reign to make false claims about cigarettes with even a focus on how they could be healthy. They would target different niches such as women or try to make out that smoking is a cool thing to do in a particular niche. Celebrities were also often used to promote the product to the impressionable young generation. This slowly changed and eventually cigarette companies were not allowed to advertise their products at all and they were removed from our TVs and no longer sponsored events, but this would not stop them from looking for creative ways to grow their company.
So how is the industry changing? We spoke to Steve Barrett at Purplebox to find out more.
In spite of all the negative publicity, the cigarette market is still worth $816 billion. The industry still sells 5.5 trillion cigarettes to the world's 1 billion smokers. The amount of people who smoke is projected to rise to 1.64 billion by 2025. Tobacco companies have found a way to fight through the negative press and will continue to grow their profits with more people expected to smoke by 2025.
Five massive tobacco companies control 80% of the market these days with China National Tobacco Corporation being extremely dominant in the Chinese market. Philip Morris International once held this crown but have struggled to maintain the stranglehold they once had on the market. However, they still have massive annual revenues of $67.7 billion. British American Tobacco are another giant and they have even faced lawsuits from African governments for past and future healthcare costs related to smoking. This company are keen to exploit a market who are less educated on the detrimental effects of cigarettes. Japan Tobacco international are another huge name but have struggled to reach the profits of the other market leaders as a result of stricter regulations in the primary area they serve – Japan. Imperial brands are another interesting company as they are very focused on acquisitions and have steadily increased their market share in recent years. They now control 4.7% of the market having only controlled %0.8 in the year 2000.
Big tobacco has managed this even with rising prices. The reality is that people with addictions will find a way to feed their habit and will cut back on other areas of their life rather than try to quit smoking. To keep profitability high, tobacco companies are also willing to spend money marketing in African countries as they are generally less aware of the detrimental effects cigarettes have on health.
In China, there is a massive cigarette market and between 7-10% of government revenue actually comes from tobacco sales. This is a pretty dangerous situation as the healthcare costs related to smoking in China are likely huge and you'd have to wonder if it is a sustainable position for the government.
It looks as if there's no end in sight for the profitability of the tobacco companies as they look how to grow in new markets around the world.