Since Direct Debit was first created in 1968, it's become more and more widely used – and over the last decade alone, the number of Direct Debits transactions processed annually has grown from 2.9 million to 4.1 billion. The latest figures also show that 9 out of 10 adults in the UK have at least one Direct Debit, and they pay around 73% of their household bills using this method.
Over the years, Direct Debit has gained a reputation as a secure payment services provider because of its reliable Direct Debit Guarantee. This protects customers from unauthorised payments and enables them to get their money back if this happens. All this contributes to gaining the consumer's trust, and if your business offers this as a form of payment, it will have a knock-on effect on how they view you.
Ease of set-up is another attraction. All they need to do is provide a few details, just one, and money will be taken automatically from their account on an agreed date. Unlike with credit and debit card payments, there's no need for customers to update their details (and businesses don't need to ask them to update their details) since money is taken straight from their bank account.
Today, new and innovative payment solutions are also supporting this popular payment method, as businesses are realising the advantages of online Direct Debit solutions compared to outdated bank transfers and inflexible standing orders. There are many secure payment services providers offering a digital solution to the traditional bank-based Direct Debit and the significant increase in transaction volume these businesses report reflects the growing popularity of this payment method among businesses and their customers alike.
Digital platforms like GoCardless, Fastpay or Trustly have opened up the possibility of using Direct Debit as a method of collecting payment for small businesses who couldn't access it before. They take care of all the paperwork, which has previously been an onerous task, and it's much cheaper than traditional Direct Debits. With GoCardless, for example, recipients pay a 1% fee per transaction, capped at £2 (minimum 20p), making it great value for money. Meanwhile, they're also helping large companies like Thomas Cook and Vax to give their customers a new and more convenient way to pay – in convenient, pre-authorised instalments.
Direct Debit is Continually on the Rise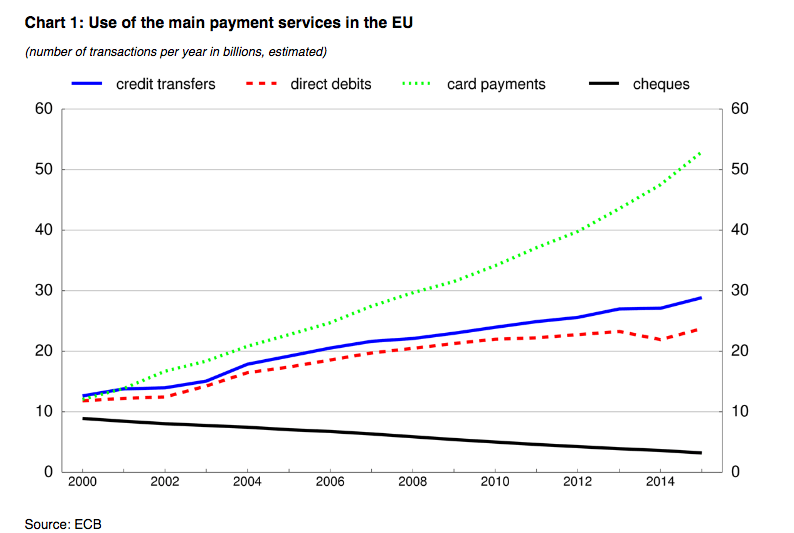 SOURCE: ECB
Given that Direct Debit is linked to the bank account of the business, it can result in fewer failures or transaction issues. Within the EU, DD is an increasingly popular payment option in the European Union, as shown above.
The value of modern Direct Debit for your business
When your customers approve payment via a traditional bank-based Direct Debit, you will get paid on time, every time – and that means improved cash flow and increased stability.
Modern secure payment services also bring additional value to the Direct Debit payment format. That's because they offer an up-to-date, online process that streamlines the entire cash-collection process. As a digital solution, it's cloud-based and ready to accept digital payments. What's more, because it integrates will major online accounting software platforms, transactions will be reconciled in your accounts.
Increased automation levels mean you'll see your staff's admin time fall since they won't be wasting precious time chasing outstanding debits. Instead, they'll have more time to focus on developing other business areas, including client relationships. As for your customers, they'll enjoy a quick and efficient payment method that is familiar to them, safe in the knowledge that your secure payment services provider is backed up by the Direct Debit guarantee.
Billy Leonard is a Senior Content and Outreach Exec at Harvest Digital. After a long day of client work, he likes to binge watch Netflix till his eyes bleed.