Digital technology and advances in this sector are transforming the remote betting and gaming industry, and have continued to do so over the last decade. Starting with the shift to online, and now, mobile adoption, the betting and gaming consumer industry is very different to what it was. From a regulatory perspective, governments who tax and provide regulatory framework for these organisations have put the industry under the spotlight, given the growth the industry has seen.
The British industry for gaming and betting is likely to see considerable change over the next few years, as the UK government plans to introduce new initiatives to regulate and tax companies operating in this sphere.
One of the many initiatives planned by the UK government is the introduction of a new type of tax – POC, or, Place of Consumption, whereby taxation occurs where the consumer uses the site, as opposed to where the site's servers of companies are based. Such systems are costly to operate or make changes to, and many smaller companies running on thinner margins might find it hard to remain competitive and profitable. To offset these types of risks, operators might choose to pass on this additional cost to customers, but this is unlikely, due to the competitive nature of the industry. Instead, operators might look at cutting cost base, cost of acquisition or marketing, and introductory offers to customers.
As a result of this, it's likely that industry players will focus largely on customer acquisition and marketing spend before the POC taxation kicks in, as post taxation, it's likely that many smaller operators will not be able to sustain this spend on a unit value basis.
In terms of channels and acquisition, despite the importance of mobile in terms of betting and gaming, retail and store presence is important as it increases brand awareness for consumers and are key in the multi-device, multi channel customer experience.
Loyalty and retention are also key factors for success in the betting, gaming and top rated casinos industry, as business costs increase due to macro economic factors, focusing on the profitability of a customer and lifetime value is key.
One other key strategy in this sector would be growth through partnerships. With larger brands owning large loyal customer bases, strategic partnerships are key for new customer acquisition and preparing companies for longer term, sustainable growth.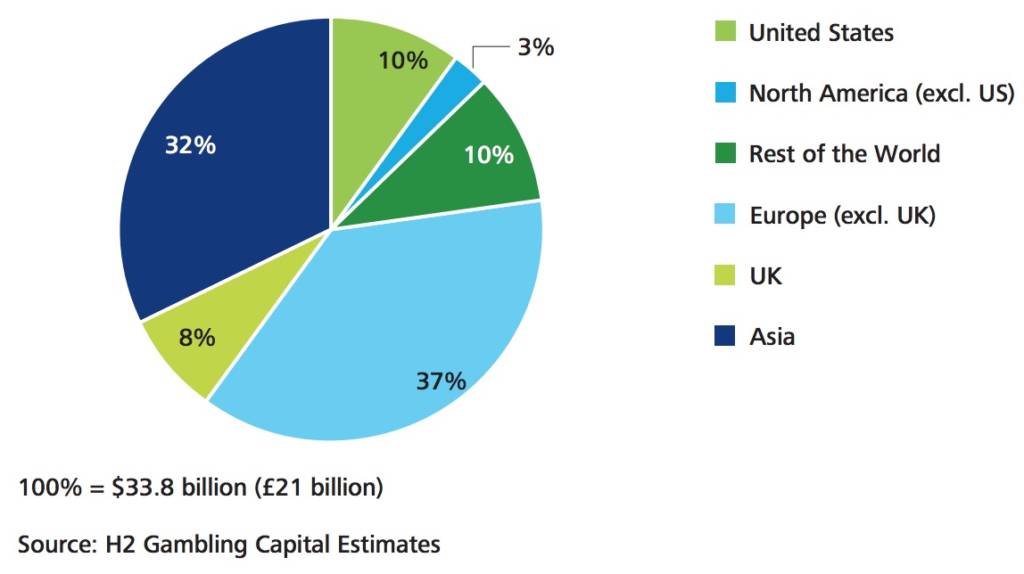 What about the UK?
The British gaming and remote betting sector is fairly developed in comparison to emerging markets, yet pressures around regulation and tax, as well as a consumer shift towards mobile, are changing the landscape rapidly, and businesses must evolve.
In 2012, the gaming and betting industry was worth around $417 billion, with global net revenues of around $34 billion. Growing at over 10% per year, the industry is predicted to reach $4.4 billion in the UK by 2018, up from $25 billion in 2013.
Looking at the segments within the betting and gaming industry, the lions share is sports betting, which accounts for nearly half of the sector.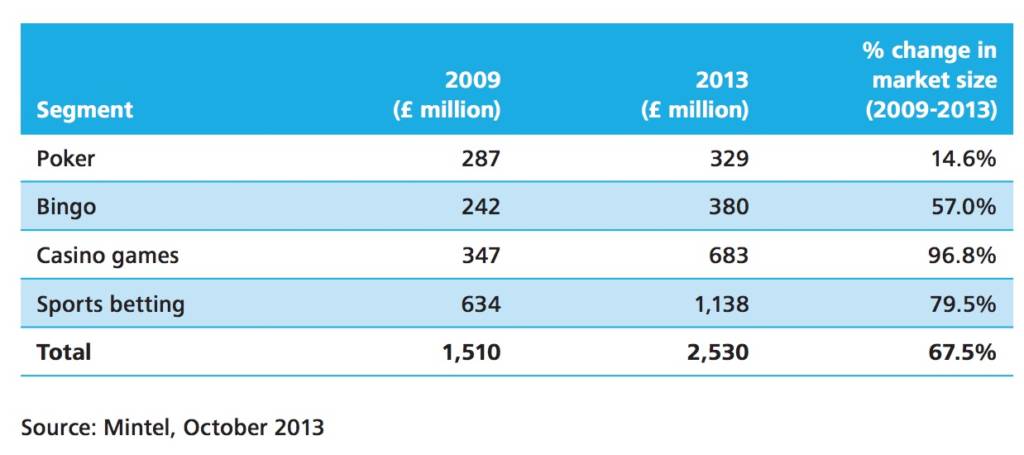 What shall we look forward to in the next 5 years?
In light of regulatory and taxation, as well as significant consumer changes, the industry is likely to see a lot of changes over the next 5-10 years. We've summarised some of those below:
Consolidation of operators
Due to the predicted increase in the cost of operations, owing to regulatory changes and the implementation of POC tax, the consolidation of small operators could be likely, as they would typically struggle on lower margins and inability to acquire new customers. Pooling costs, operations and continuing to invest in infrastructure is a likely trend to achieve advantage in this environment.
Price
In light of the new taxation, its unlikely that operators would look to passing on these costs to the consumers, given the competitive nature of the industry, often driven by cost.
Looking at particular pricing strategies, as well as other ways to maintain or increase the bottom line through driving efficiency and cost saving, is definitely something that British businesses could face in the near future.