When marketing strategies are devised on the inferences and indications of future trends, predicted through the analysis of the collected data, it is termed as data driven marketing. Interaction, engagement and response from the target audience is the prime source of the data, but organization and analysis of the same to predict trends in the near future is the main challenge.
Why is Data Driven Marketing So Widely Adopted?
Today, data driven marketing is not just a pioneering approach anymore, but it has turned into an industry standard which top marketing agencies such as Deluxe Financial have perfected to the point where the ROI on marketing is nothing short of amazing. The immense scope of being able to reach previously unresponsive sections of the target audience, combined with the prospect of staying relevant by predicting future trends in the fast-changing industry are the two main reasons why data driven marketing is being adopted so widely by companies both big and small, both within the trade finance space, and outside.
The Consumer Centric Approach is Mutually Beneficial
At its core, data driven marketing is a very consumer-centric approach that not only helps in recognition of the target audience and their needs, but also helps businesses to develop products and services which the customers actually want and need. This is a mutually beneficial part of the business because the customers get what they are looking for and the companies are able to reduce their rate of product failures, because the analysis of the data tells them exactly what will sell and what won't. In fact, the customer experience refinement is possible on an individual level as well, and not just through a general strategy. The pattern recognition and future predictions help businesses advertise the right products and services to the right customers, even on an individual level.
Caption: Forbes explores how brands can use the power of big data to improve the customer experience.
Why Do You Need an Expert Team for Data Driven Marketing?
While it may sound easy enough, attainment, analysis and interpretation of the relevant data isn't something that anyone can do. It requires theoretical and practical knowledge, honed by years of experience. A marketing team that doesn't check all those boxes will have a lower chance of delivering high ROI.
Important Tools of Data Driven Marketing
There are a variety of tools and strategies that a data driven marketing team will apply, but they will likely consist of at least the following two:
Recognition of Favorite Keywords – When you know the specific keywords your target audience is searching for, it is easier to devise an SEO campaign that will lead the relevant traffic to your site, but even more importantly, your site should have the products/services which the keywords represent. A bad reputation for misleading campaigns will burn a company pretty fast in the age of internet.
Retargeting – If someone is already an old customer, the data obtained from their previous purchases and recent searches allows the marketing team to retarget them by creating a micro-ad that's specifically designed to appeal to that specific customer. This could come in the form of personalized ads on social media, SMS or email marketing.
Marketing is no more about only presenting what you already have in a lucrative package, but it's a dynamic effort that constantly evolves and informs to keep both the core business and the target groups updated with the latest trends and developments in the field. Collection, analysis, interpretation and presentation of the Big data is only going to become more and more important as we head towards an even more connected future.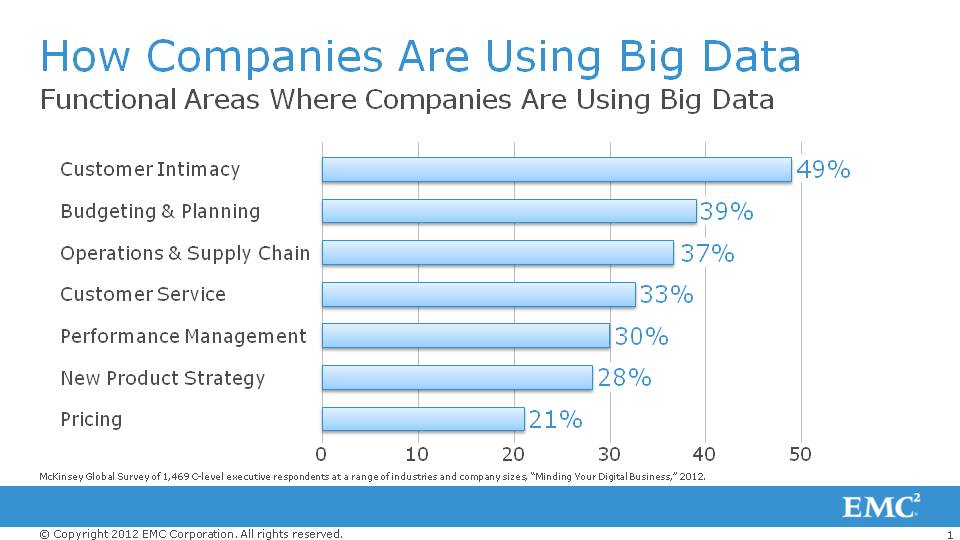 Caption: Here are some of the ways companies are using big data across different areas of their business.