Bitcoin has become a major topic among investors in the past few years. Despite its naysayers predicting that the cryptocurrency will never become an actual legitimate currency, there are people who think otherwise.
Bitcoin's price has risen over 300% over the last year, with hundreds of merchants now accepting it as payment. If it can be used to purchase currency, and traded like Forex because of its fluctuating prices, then people will keep investing in it.
While Bitcoin will not phase out traditional currencies, there are some interesting predictions that may forever change the course of building a well-diversified portfolio.
Bitcoin is here to stay
The Coin Telegraph mentions 5 reasons why Bitcoin is here to stay, one of which is the cryptocurrency's relative advantage over its competitors. A major advantage of it is that it has a decentralized ledger, which means that no single entity is in control of the records of previous transactions. In addition, Bitcoin doesn't demand high processing fees unlike other third-party processing companies, which not only demand a transaction fee to transfer money to banks but also provide a low exchange rate when converting currencies.
Bitcoin users also do not have to be concerned with inflation that can affect their investment. That's because after 21 million Bitcoins have been generated, the cryptocurrency can no longer be mined.
Bitcoin was created as a reaction to the 2008 financial crisis, which led to the printing of money and suppression of rates. Its existence is the antithesis of traditional currencies, which can be manipulated by central banks. For these reasons, experts and investors of the cryptocurrency believe that Bitcoin is here to stay.
Bitcoin's prices may go as high as $15,000 by the end of the year
It may sound a little farfetched, but with the prices of Bitcoin are still traveling upward, so don't be surprised if the cryptocurrency reaches $15,000 by the end of 2017. According to Futurism, a respectable Bitcoin trader, expects the value of the cryptocurrency to increase until 2019, and its prices could be as high as $110,000 by then. The trader, who uses the alias masterluc, was able to predict Bitcoin's value in November 2013 when the cryptocurrency was viewed as bearish. In May 2015, he also made the correct prediction about the time when Bitcoin's prices would once again start rising.
Masterluc isn't the only investor who expects Bitcoin to gain more strength. Goldman Sachs analyst Sheba Jafari also predicted that the cryptocurrency may reach $4,800, after having an earlier forecast of $3,690 in July. Jafari's prediction may not be on target with Bitcoin's current prices today but it's not that far off. According to the BTC price chart by FXCM, Bitcoin is trading at around the $4,400 price mark.
Mining will not slow down
At the end of 2017, the drop of mining won't be felt. Currently, around 1,727 new Bitcoins get mined every day, while about 400,000 of them get traded every day. At this rate, Bitcoin creation will drop by half within the next 2 – 3 years, leaving around 800 to be mined on a daily basis.
By 2024, around 400 Bitcoins will be created, and by 2030, around 99% of all Bitcoins will have already been mined. The remaining 1% will probably be battled over amongst the most dedicated miners of the cryptocurrency.
Below is a graph of the total predicted mined Bitcoin until 2033.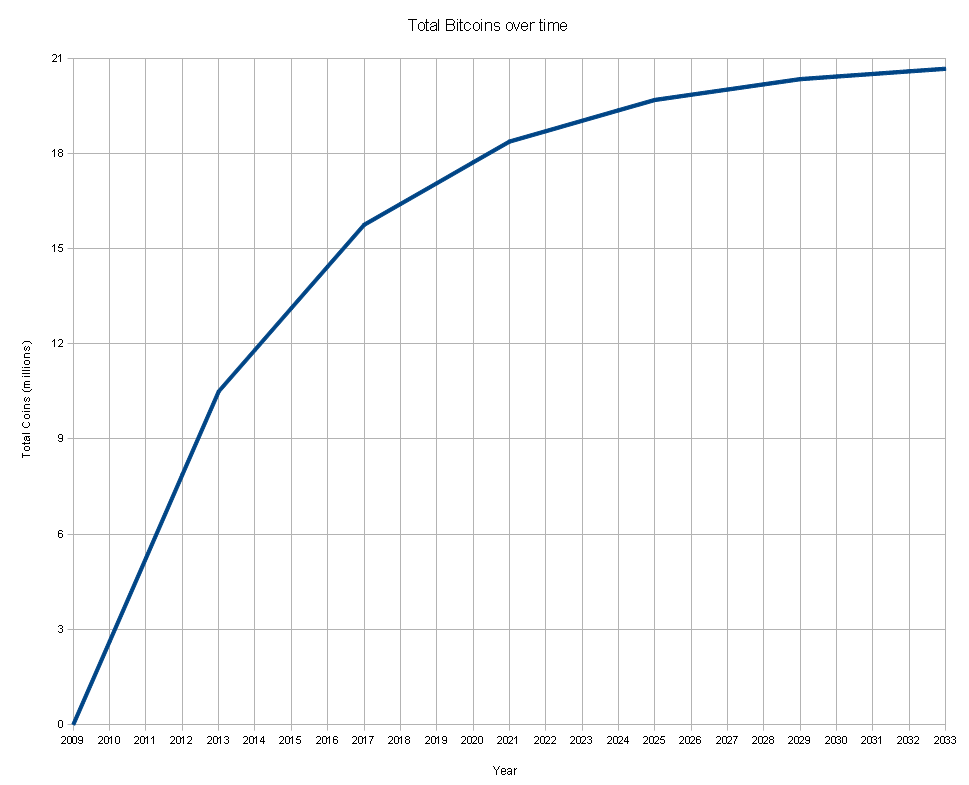 Source: Bitcoin Stack Exchange
Bitcoin's prices will stay above $4,000
In August, the price of Bitcoin was trading at around $4,200. While its prices also dropped significantly in August, analysts, according to The Telegraph, believe that its prices will continue to rise following its recent split into 2 different cryptocurrencies commonly referred to as "Hard fork". Hard fork is the shift in protocol that makes previously invalid blocks valid. It was in August 1 when the Bitcoin fork was introduced, and the code split into Bitcoin and Bitcoin Cash.
Tom Lee, a strategist working on Wall Street, claims that the price of Bitcoin, could even rise by another 40%.
Bitcoin may be nothing more than a bubble
Despite the positivity surrounding Bitcoin, some are still skeptical about its rise to prominence. Nobel Prize holder and Yale economist Robert Shiller used Bitcoin as an example when asked to name an example of a speculative bubble.
"The best example right now is bitcoin," Shiller said. "And I think that has to do with the motivating quality of the Bitcoin story. And I've seen it in my students at Yale. You start talking about Bitcoin and they're excited! And I think, what's so exciting? You have to think like humanities people. What is this Bitcoin story?"
By giving people an investment where the prices always seem to go up, Bitcoin serves as a rub for financial anxiety. Bitcoin empowers people, and makes them think that they can be rich from believing in an unbacked investment. Shiller notes that the problem with this is that speculative bubbles can burst at any time, without anyone knowing when it will happen.