EXCRED COMMODITIES NEW YORK: INSURING COMMODITY AND PROJECT FINANCE
Join the world's leading insurance users and providers at New York's first dedicated industry forum
How are traders using insurance? What is the current capacity for NY based insurers? What makes public/private projects successful? Get the insights you need to stay ahead.
What is the Insuring Commodity And Project Finance about?
Location: TBC| New York
Date: December 5, 2018
Traders & Financiers:
Get expert analysis backed by cutting edge data to help you capitalize on the latest trends
Meet industry-leading brokers and insurers who can provide you with the risk solutions you need
Stay competitive by learning how else your industry is utilizing insurance
Insurers & ECAs:
Meet some of the biggest users of insurance
Find out exactly what they need and to provide more useful and appealing products
Learn about developments in the insurance market to see where you should focus your business
Brokers:
Meet the key players in commodity and project finance to keep your business growing
Learn about the cutting edge of insurance to keep your clients connected with the right people
Understand market trends to see what insurance demands there are in commodity and project finance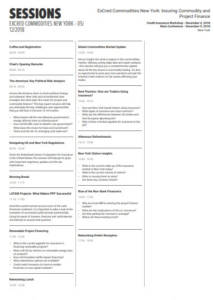 Agenda:
TIME
08:00 08:30 – Coffee and Registration
09:00 09:00 – Chair's Opening Remarks
09:10 – The Americas: Key Political Risk Analysis
09:50 – Navigating US and New York Regulations
10:00 10:30 – Morning Break
11:00 11:10 – LATAM Projects: What Makes PPP Successful
11:50 – Renewable Project Financing
12:00 12:30 – Networking Lunch
13:00 13:50 – Global Commodities Market Update
14:00 14:30 – Best Practice: How are Traders Using Insurance?
15:00 15:10 – Afternoon Refreshments
15:40 – New York Claims Insights
16:00 16:20 – Rise of the Non-Bank Financiers
17:00 17:00 – Networking Drinks Reception
Who is the conference for?
What is trade finance?
Trade Finance is an umbrella term encompassing many different finance structures which help fund businesses who are importing or exporting goods both domestically and internationally. Whether it's securing finance on invoices or receivables, freeing up working capital through a Letter of Credit or PO / warehouse finance, or hedging risk through insurance or FX, trade finance is responsible for $3tn USD of trade globally.
View our guide