Brexit Guide for Accountants
With just days to go until the British public take their hand in voting on the EU Referendum, we've compiled the facts and what this could mean for you and your clients.
On the 23rd June when the British public takes to the polls for an in/out referendum, currency and stock markets are expected to take a significant swing upon either result. Upon the event of a Brexit result (i.e., Britain choosing to leave the EU, your clients are likely to turn to professionals like you for help and support. At Trade Finance Global, we've put together a broad guide and handy list of knowns and unknowns around Brexit, so that you can help your clients as best possible. We've also considered possible implications of a Brexit, from an accountancy practise perspective, hopefully covering some questions that your clients may ask you.
Brexit Overview – What we know and what we don't know
If Britain exits the European Economic Area (EEA), which is essentially the 'glue' holding together the 28 member states within the European Union, nothing will change for the next 2 years in terms of our current legal relationship with EU; Britain will have 2 years to negotiate a Brexit.
There's an incredible amount of uncertainty around the economic impacts around Brexit, and according to a recent FSB poll, some 52% of SME owners still do not feel well informed about the foreseeable impacts of leaving the EU.
This guide should help inform accountants, in the case of a Brexit, on what they could perhaps talk to their clients about, should they raise questions about Brexit.
Brexit: things we're pretty confident about
Likely Macro-economic impacts of Brexit
Duration of time before decisions are made
It's likely to take 2 years for decisions to be made and for negotiations to come to fruition following a Brexit vote, therefore there is plenty of time for accountancy practices to be well versed and prepared for their clients in time for Britain exiting the EU.
Trading in Europe
Trade tariffs are likely to be impacted by Brexit. Currently, as the UK is part of the European Union, trade within the EU is free, as part of the free trade agreement. Britain would have two years to renegotiate terms with individual member states, therefore, it is likely that trade tariffs between other European counterparts could arise, or at least face changes from the current situation.
For clients who import or export goods or services within the European Union (the UK currently exports some 50% of goods to Europe), a Brexit vote means that the UK will need to negotiate trading terms as 'the UK', rather than as part of the EU.
On a positive note, due to less bureaucracy compared to being part of the European Union, these agreements are likely to take place quickly, but there could be additional trade tariffs imposed on exporters, which could be a risk to clients.
Ring fenced retail versus investment banking
It's worth knowing that the UK retail banking sector is likely to be ringfenced from the UK investment banking sector. Banks such as Barclays PLC could see a shake up in terms of structure as UK regulators would be more likely to hold companies more accountable for where it puts it's customers money, thereby to prevent a potential financial crash.
For clients, this means that access to core banking services such as Buy-to-Let mortgages, business loans and credit facilities could get more challenging, as banks will be under the spotlight.
No longer a single passport or single market
Currently, many international banks use London as a base to structure their Headquarters as a gateway to access the single EU market. Under a Brexit scenario, organisations that use this 'passporting' technique might need to relocate to European headquarters such as Brussels or Frankfurt to continue trading in European countries.
If UK companies who currently trade or do business in Europe want to continue, they might need to shift some of their operations to mainland Europe.
Currency Fluctuations are highly likely
We've seen unprecedented volatility in the FX space over the last few months; as a result of in / out polls, international investors pulling money out of the UK, and the pound sterling devaluing significantly on a year on year basis from its major counterparts such as the dollar and the euro.
The pound is likely to increase in value upon a remain vote, and decrease in value upon a stay vote, although it is uncertain as to how much by.
For clients, any SME currently trading in other currencies (e.g. purchasing goods from Asia), a sensible FX risk or hedging strategy should be in place to protect and insure clients against any adverse volatility of the pound sterling.
For accountants, be sure to get in touch with Trade Finance Global to talk to our team about smart currency options for SMEs as a result of the recent and anticipated volatility in forex markets.
How Accountants could prepare for Brexit
Some handy tips from Trade Finance Global
Being able to communicate the facts as a finance professional is important during times when an EU Referendum is imminent. We've put together a short 5 point piece on items to consider communicating to your clients which could impact the accounting sector.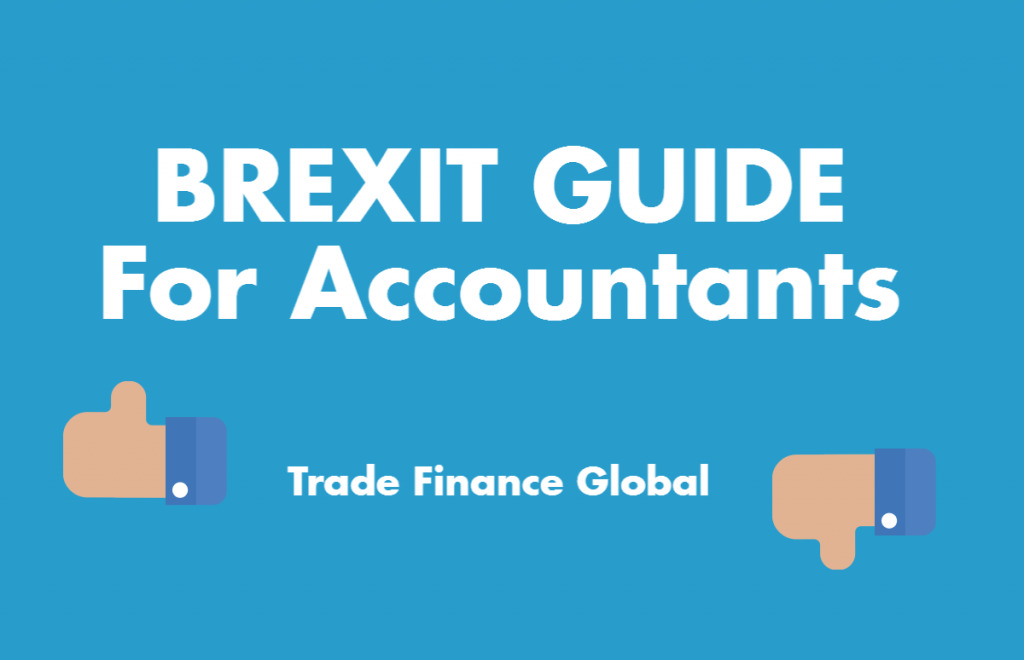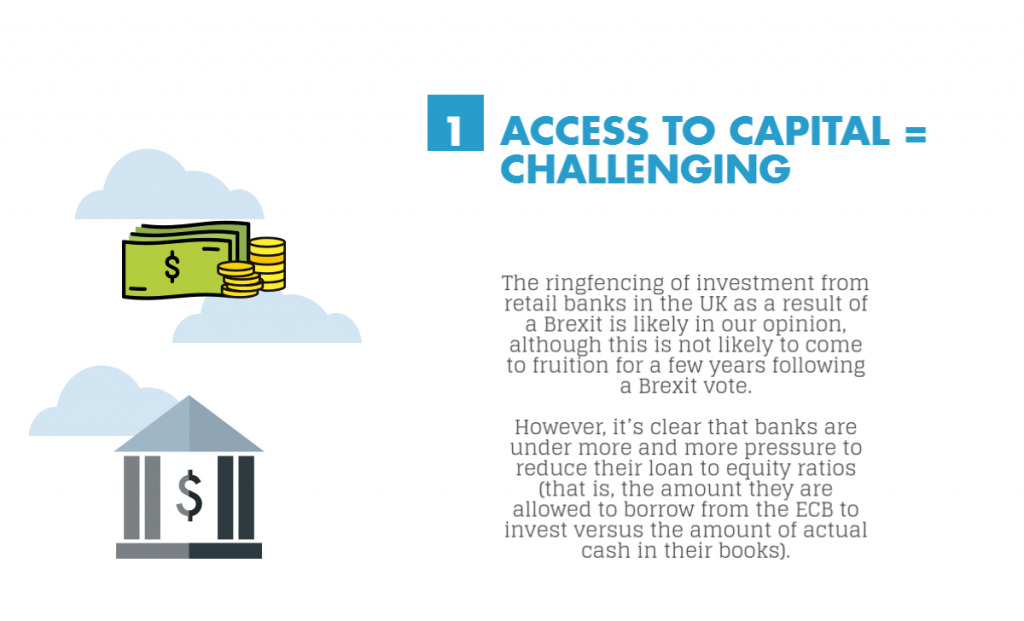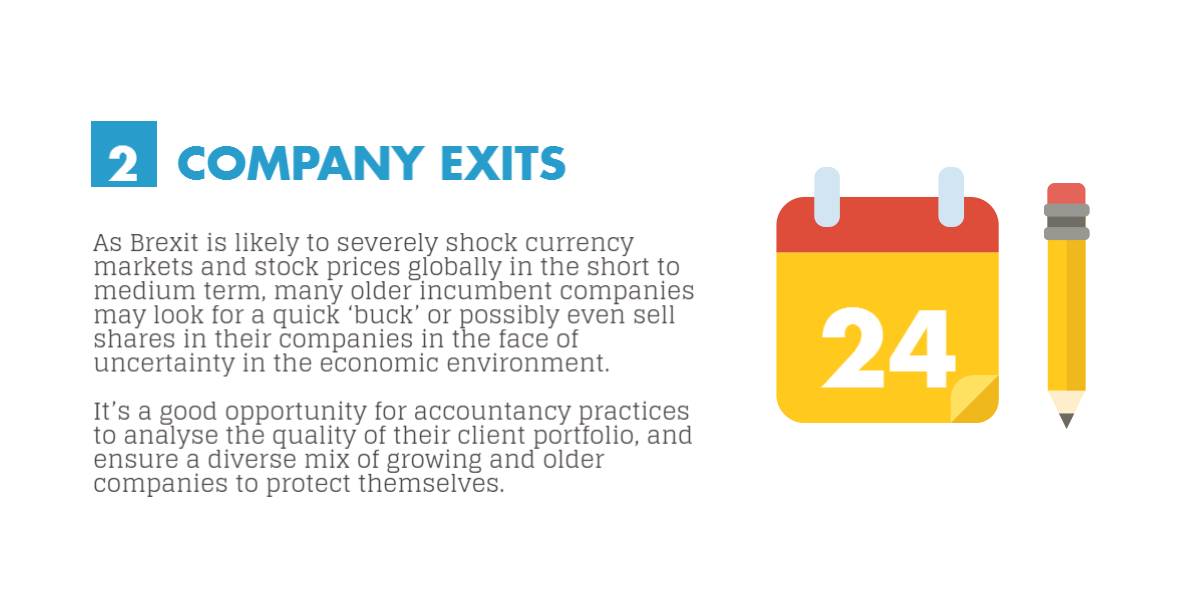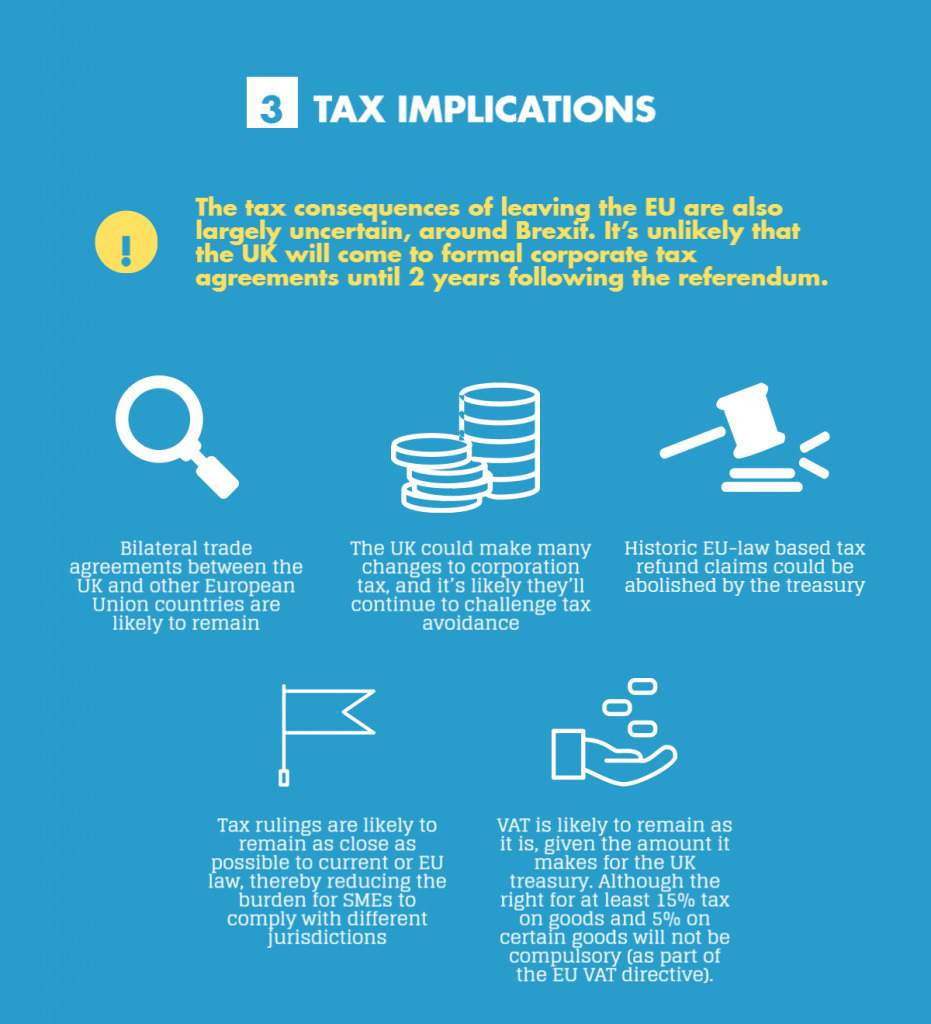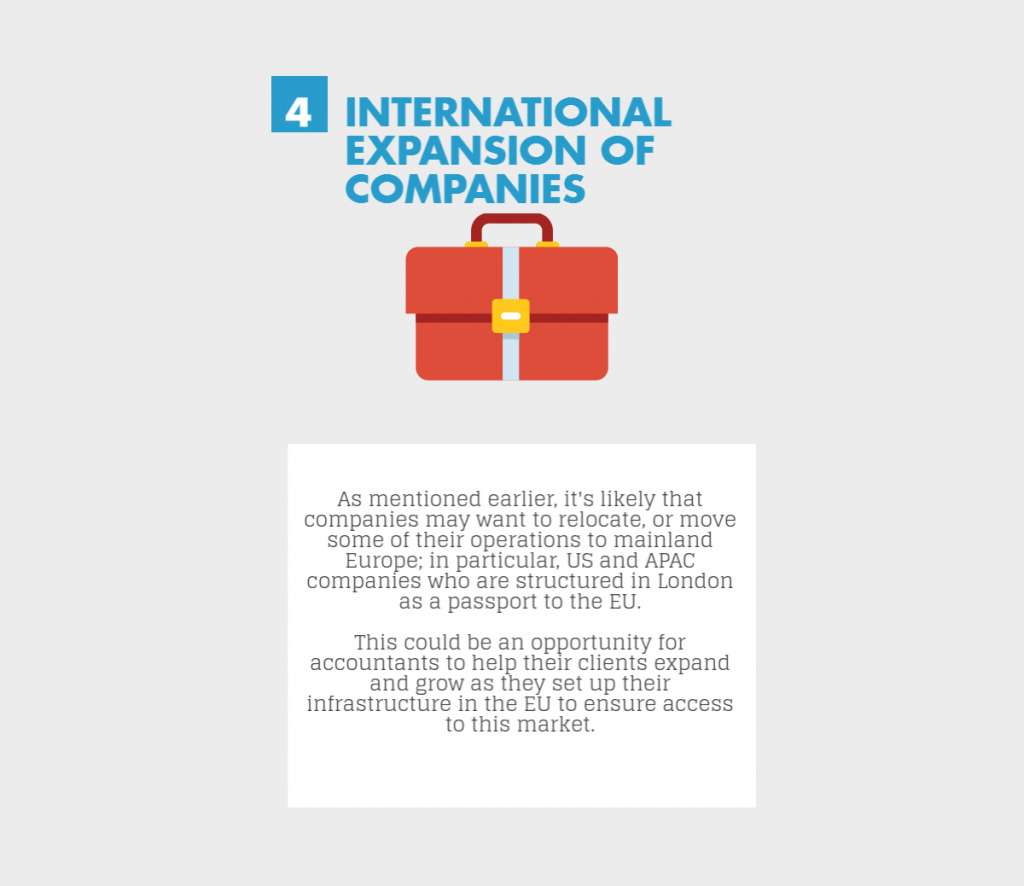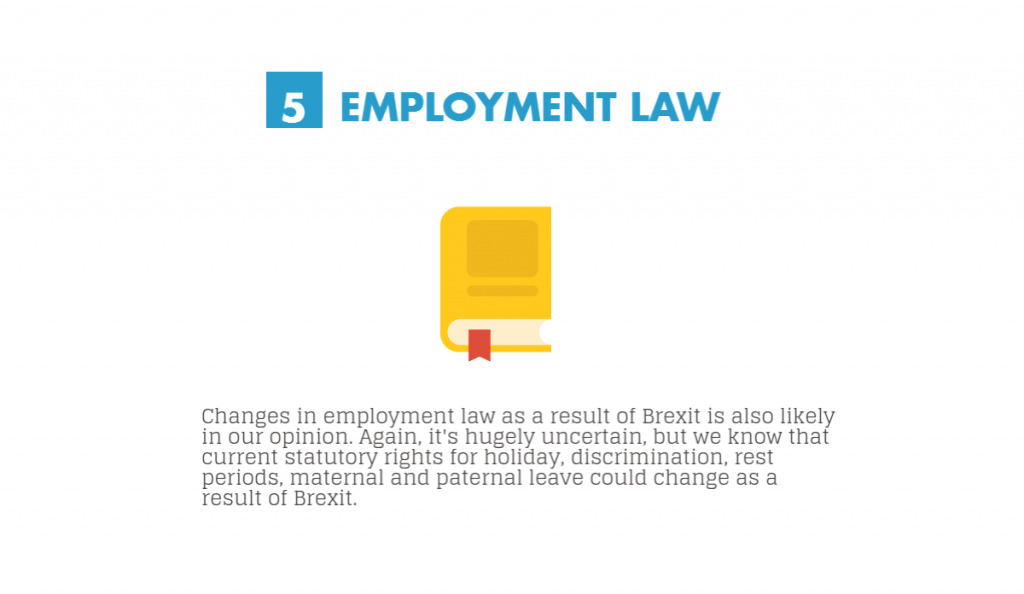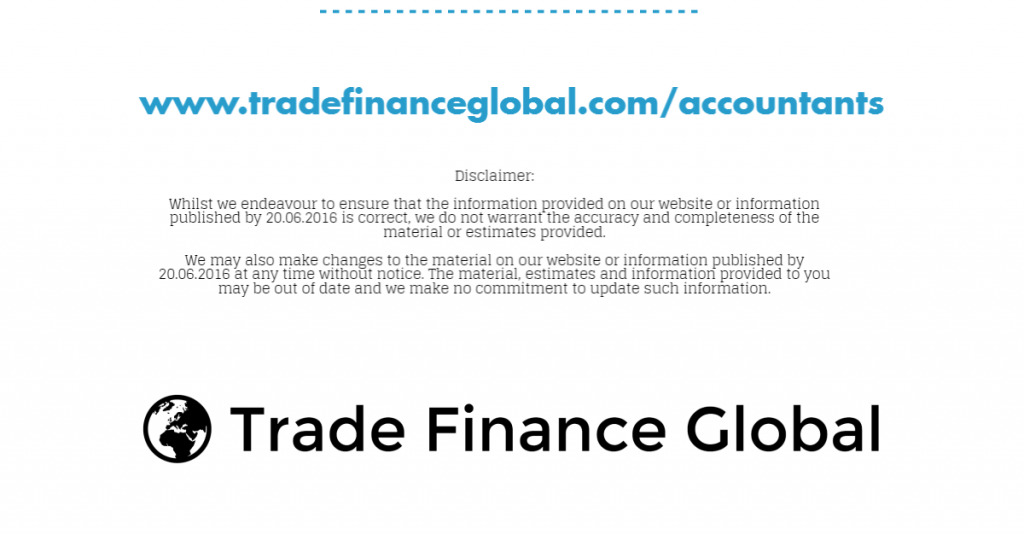 1. Access to capital and existing funding lines could get challenging
The ringfencing of investment from retail banks in the UK as a result of a Brexit is likely in our opinion, although this is not likely to come to fruition for a few years following a Brexit vote.
However, it's clear that banks are under more and more pressure to reduce their loan to equity ratios (that is, the amount they are allowed to borrow from the ECB to invest versus the amount of actual cash in their books).
If this continues, we could see a material shift in the access to capital from banks to alternative and non-bank lenders. Fortunately, that's where we operate. At Trade Finance Global, we help businesses access most forms of debt finance in order to help companies expand, reduce working capital constraints, or release cash flow into the business. Access our business finance hub for accountants here!
2. Be prepared for company exits, increased M&A activity, and sellouts
As Brexit is likely to severely shock currency markets and stock prices globally in the short to medium term, many older incumbent companies may look for a quick 'buck' or possibly even sell-out their shares in their companies in the face of company turmoil.
It's a good opportunity for accountancy practices to analyse the quality of their client portfolio, ensure a diverse mix of growing and older companies to protect themselves.
3. Tax implications of Brexit
The tax consequences of leaving the EU are also largely uncertain, around Brexit. It's unlikely that the UK will come to formal corporate tax agreements until 2 years following the referendum.
Although, according to Jason Collins at Pinsent Masons, he makes a few poignant points about tax implications following a Brexit;
Bilateral trade agreements between the UK and other European Union countries are likely to remain
The UK could make many changes to corporation tax, and it's likely they'll continue to challenge tax avoidance
Historic EU-law based tax refund claims could be abolished by the treasury
Tax rulings are likely to remain as close as possible to current or EU law, thereby reducing the burden for SMEs to comply with different jurisdications
VAT is likely to remain as it is, given the amount it makes for the UK treasury. Although the right for at least 15% tax on goods and 5% on certain goods Will not be compulsory (as part of the EU VAT directive).
4. International Expansion of companies
As mentioned earlier, it's likely that companies may want to relocate, or move some of their operations to mainland Europe; in particular, US and APAC companies who structured in London as a passport to the EU.
This could be an opportunity for accountants to help their clients expand and grow as they set up their infrastructure in the EU to ensure access to this market.
5. Employment Law Changes
Changes in employment law as a result of Brexit is also likely in our opinion. Again, it's hugely uncertain, but we know that current statutory rights for holiday, discrimination, rest periods, maternal and paternal leave could change as a result of Brexit.
About Trade Finance Global
We are pioneers in business funding and trade finance, offering a range of truly flexible debt finance options to suit all types of SMEs. We operate a super-fast process – from application to funding. Trade Finance Global clients have a dedicated point of contact at every step of their lending journey.